Finishing Touch Flawless Legs Review: Leg Hair Removal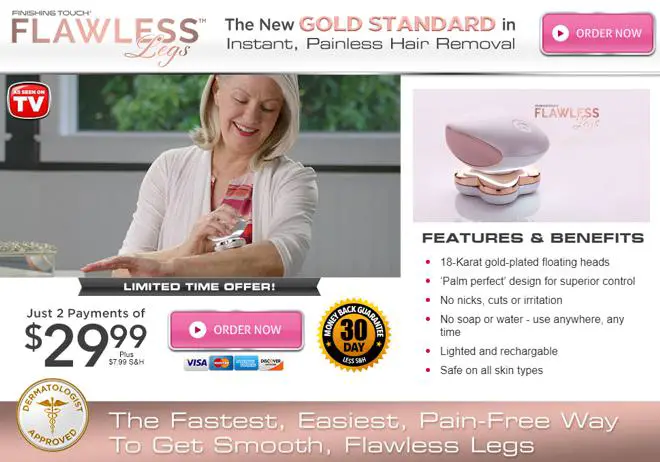 Flawless Legs is a hair removal device designed to provide smooth legs without lasers or razors. Does it really work? Here is my Flawless Legs review.
Sponsored Links
About Flawless Legs
Flawless Legs is an ergonomic, pain-free hair removal device with four floating heads. The official product website is getflawlesslegs.com, which was registered in September 2017. The screenshot below shows how the product website looked in September 2017.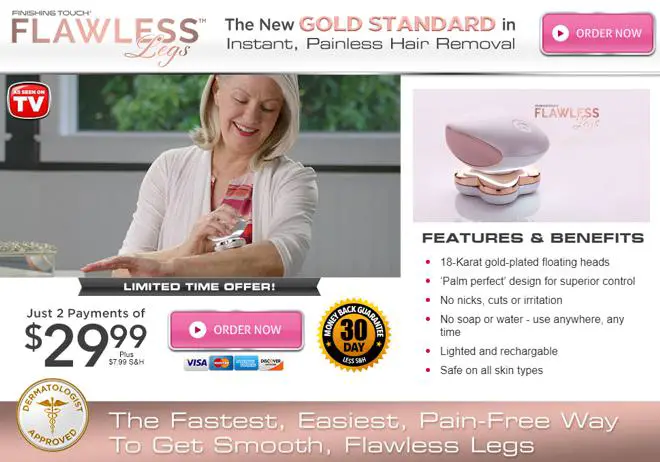 Claims & Features
Four 18 karat gold-plated heads
Ergonomic design
Doesn't nick, cut, or irritate
No water or soap needed
Rechargeable
Works for any skin type
Cost
Finishing Touch Flawless Legs costs 2 payments of $29.99 + $7.99 shipping, for a total cost of $67.97. As of this September 2017 writing, this item isn't sold in stores.
Finishing Touch Flawless Legs Review
It was only two months ago I posted a YouTube review of Finishing Touch Flawless, a facial hair removal device marketed to women. What I found interesting for that product, and now with Flawless Legs, is that the makers seem to avoid using the word "razor" to describe these products. In fact, the marketing for Flawless Legs contrasts this item with razors several times. Of course they mean cartridge razors, and not electric razors, because both Finishing Touch and Flawless Legs are electric razors.
I understand there is a stigma about women shaving their faces, so the makers understandably distanced themselves from the fact that the original Finishing Touch Flawless is an electric razor while describing it as a "painless hair removal" device. That stigma has been driven in part by the long-standing myth that shaving makes hair grow back thicker, which it definitely does not. Thankfully, that myth is starting to die out as people become informed. There is less of a stigma about shaving legs, but it appears that they have continued avoiding the word "razors" for this product.
Sponsored Links
Regarding Flawless Legs itself, we have what can be described as an electric razor with four floating heads, not unlike what you'd find in many men's shavers. The design of the item itself clearly has women in mind, however, as the handle is made for holding in the palm as it glides along the legs. The gold plated heads, as with the original, will do a fine job of removing short "peach fuzz" hair, although it can remove longer or coarser stubble if necessary. Flawless Legs is rechargeable, which means you don't have to deal with cords or batteries.
There doesn't appear to be anything about Flawless Legs that couldn't be achieved with any electric razor,  but it is clearly constructed with women in mind.
It's not surprising to see a follow-up to the popular Finishing Touch Flawless, although I'm not sure if this has made it out of test marketing phase yet. Based on the September 2017 website registration, it appears that this likely is being test marketed, but my suspicion is that it will probably get enough consumer interest to go into full production. I'll update this space as I get more information.
I think that the majority of women who use this product will think that it does a fine job, especially if expectations are realistic.
Alternatives
The "palm" design actually reminds me of this Remington Wet & Dry Shaver, which is very highly rated, but slightly more expensive than Flawless Legs. If you're just looking for a highly-rated inexpensive women's electric razor, take a look at this popular $18 Panasonic model, with over 6,000 customer reviews.
You may be interested in my review of the original Finishing Touch Flawless, which is essentially a one-head version of this item.
Television Commercial
Your Flawless Legs Reviews
Have you used Flawless Legs or something like it? Leave a comment below and a star rating above to let us know your thoughts.