The Flex Belt is a product which claims to tone your abs by stimulating your abdominal muscles. Read our Flex Belt review plus key product information.
Sponsored Links

The Flex Belt

This device uses electronic muscle stimulation (EMS) to send electronic signals to your muscles, causing them to contract. Although this is an FDA-approved technology, it is not without controversy or detractors. Back in 2002, several ab exercise products like this were slammed by the Federal Trade Commission for false advertising, with claims these belts could help you achieve "washboard" abs.

Further, the only highly-cited study regarding the effectiveness of EMS belts dates from 2005 out of the University of Wisconsin, La-Crosse. Even that study admitted that subjects "did not lose any subcutaneous fat."

Wearing The Flex Belt does provide stimulation. You can certainly feel it doing something. Unless you already have a good physique, however, The Flex Belt will not help you slim down. Those who The Flex Belt helps most – those already with a toned stomach – are the people who need it the least. Alas, a closer read of The Flex Belt's official website does show a focus on abdominal muscle toning, and not belly fat reduction.

See this article about the effectiveness of "slimming" belts.
Gel Pads
The Flex Belt requires "gel pads," which means your $199 investment in the system also requires you to continually purchase these pads as well. 1 set of Flex Belt gel pads costs about $15. Purchasing additional sets results in additional savings.
Fake Reviews
What is perhaps most disturbing is that legitimate, objective reviews of The Flex Belt are difficult to find amid questionable "press releases" and "reviews" – which end with glowing endorsements and links to buy the product. If you look closely at the links to purchase the product, however, you'll often find they are affiliate links, meaning the person writing the press release or review gets a cut when someone purchases the belt from their link.
Sponsored Links
The Flex Belt "About" paragraph
"The Flex Belt is the first Ab Belt Toning system cleared by the FDA for Toning, Firming and Strengthening the stomach muscles. With The Flex Belt, you can train your abs even if you're too busy or too tired for a traditional workout. Just slip on the comfortable toning ab belt and the clinically demonstrated, patented medical-grade technology stimulates the nerves that make your muscles contract and relax. As a result, you get an effective abdominal workout that targets all the muscles in your abdomen – all in just 30 minutes a day."
Official Website
theflexbelt.com
Registered on January 8, 2008
Contact
Phone (US): 855-353-9432
Phone (International): (310) 362-0581
Fax: (310) 362-0582
Address: 

C/O – The Flex Belt, 

30765 Pacific Coast Highway #168, Malibu, CA 90265
Email: [email protected]
Hours: 7:30am-4pm PST Monday-Friday:
Claims/Features
The unique construction of the Flex Belt features three pre-positioned, medical-grade Gel Pads, covering the central abdominals and external obliques.
During your toning session, signals from the Flex Belt® reach out to nerves where they are most concentrated.
These nerves branch out to all of the stomach muscles causing them to contract and relax naturally, working all of the muscles at the same time, not just those directly under the gel pads.
"Our Customers Love The Flex Belt.The Flex Belt does not remove inches of fat, but it tones, tightens and strengthens your stomach muscles. Using The Flex Belt in Conjunction with Your Dedication to Diet, Nutrition, and Exercise Can Help You Achieve Your Goals of a More Attractive Stomach as Well!"
Cost
1 Flex System Belt costs $199. Purchasing additional belts results in lower costs per belt. If you stay on the website long enough without ordering, a 25% off coupon may appear, which drops the price to $149.99.
Screenshot
Below is a screenshot of the official Flex Belt website, taken in January 2014. As of December 2015, it has remained mostly unchanged.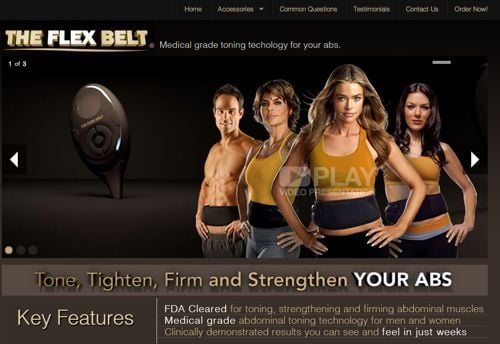 Television Commercial
Below is a television commercial for The Flex Belt.
The Flex Belt Reviews
Have you tried The Flex Belt? Please give us your review in the comments below and give it a star rating above.
First published: January 2015
Modified: December 26, 2015