Flex Desk is advertised as a device that can easily turn your regular desk into a height-adjustable desk. Does it actually work? Read our Flex Desk review.
Sponsored Links
About Flex Desk
Flex Desk is an adjustable desktop that allows you to stand while working at your desk. The official product website is buyflexdesk.com, which was registered in September 2016. The screen shot below was taken of the product website in January 2017.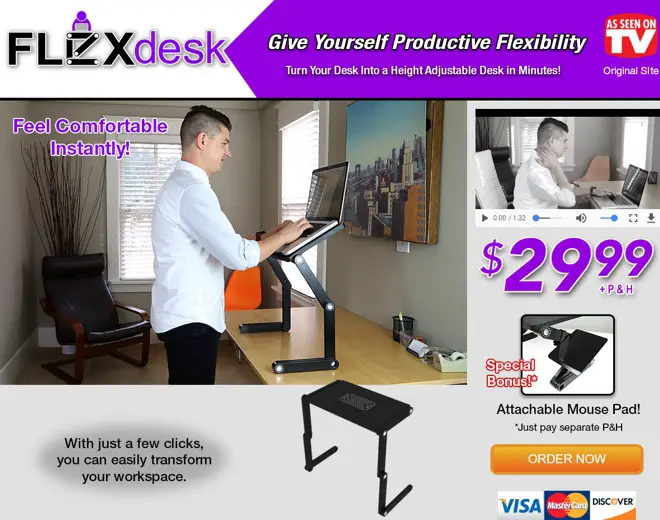 Claims & Features
No tools required – use right out of the box
Vented top keeps laptop from overheating
Flip up tabs helps keep items secure
Folds flat
Cost
Flex Desk costs $29.99 + $9.99 P&H. You can add an optional mouse pad for another $6.99. This brings your total to $39.98 for just the desk, or $46.97 if you add the mouse pad.
Sponsored Links
As of this writing, Flex Desk isn't available in stores.
Flex Desk Review
Flex Desk is a device that allows you to use your laptop from a variety of angles. It can be set to numerous positions and angles, which can allow you to sit or stand more comfortably while using your device.
At first glance, Flex Desk appears to be a laptop stand with adjustable legs. While that is the case, these legs can rotate and fold into various angles. Thus, Flex Desk can be used to extend your desktop, used as a tray for your couch, or as a tablet holder.
Flex Desk is advertised with a wide variety of uses, but it is best suited for laptop computers. There are small tabs that are included which help prevent a laptop from sliding, as well as vents through which heat can escape.
Although you shouldn't expect it to be made of the highest quality materials, you'll probably find that Flex Desk does a surprising job of living up to the advertising hype. If you use a laptop at your desk, this could be an ideal way to adjust positions, or even stand while working. It won't, however, replace a more expensive Varidesk (see below) that is designed to hold an entire desktop computer configuration.
For the price and function, we think Flex Desk will receive high marks once consumer ratings begin to appear online.
Keep in mind that Flex Desk is still relatively new, and shipping times may be a bit longer than found with products that aren't as new.
Alternatives
Flex Desk is perhaps best described as an As Seen on TV smaller rival to Varidesk, a popular line of adjustable desktops. Varidesk can cost in the hundreds, but it is aimed at a full desktop setup, while Flex Desk seems to be marketed more for those who use laptops.
Executive Office Solutions offers a product almost identical to Flex Desk, and priced similarly. That item has an impressive 4.3 star rating among hundreds of consumer reviews.
Your Flex Desk Reviews
Have you used Flex Desk? Let us know what you think by leaving a comment below and a star rating above.