Flex Tape is advertised as super strong waterproof tape that can patch or bond almost anything. Does it actually work? Read our Flex Tape review.
Sponsored Links
About Flex Tape
Flex Tape is strong rubberized tape that can be used hot or cold, dry or wet. The official product website is flextapeoffer.com, which was registered in December 2016. The screen shot below was taken of the product website in January 2017.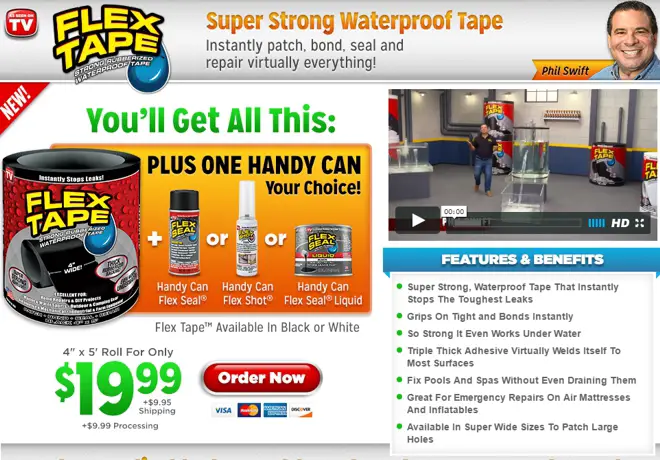 Claims & Features
Strong, waterproof tape
Bonds instantly
Works underwater
Attaches to most surfaces
Wide size can patch large holes
Ideal for inflatables, pools, and spas
Cost
For the TV offer you can get a 4″ x 5′ roll of Flex Tape for $19.99 + $9.95 shipping + $9.99 processing. So, although the advertising promotes a cost of $19.99, you'll end up paying $39.93 for a 4″ x 5′ roll.
There is an option to get an 8″ x 5′ roll for $29.99 + $9.95 shipping + $9.99 processing, or 12″ x 10′ for $49.99 + $9.95 shipping + $9.99 processing.
You can also get Flex Tape from the main Flex Seal website (flexsealproducts.com) for about the same price, but with shipping only about $6. This doesn't include the bonuses listed on the TV offer.
As of this May 2017 update, Flex Tape is now available in some stores. I found a 4″ x 5′ roll for about $14 at a local Walmart.
Flex Tape Review
Flex Seal has been a popular brand of sealants that have advertised continually for several years. The brand recently released Flex Tape (also referred to as "Flex Seal Tape") which is a super strong waterproof tape that is said to stop leaks and work instantly.
I found Flex Tape at a local Walmart and performed some initial tests on it, which I'll discuss below, and which can be seen in the video at the bottom of this page.
My first thought is that this item is marketed similarly to FiberFix, which is said to be 100 times stronger than duct tape, and holds a mostly positive rating among consumers. That item came out about 4 or 5 years ago after being featured on Shark Tank. The unfortunate downside to FiberFix is that it is a one-time use, and must all be consumed after you open it.
That is not the case with Flex Tape, however. You simply cut however much you need, and peel off the backing to use. I consumed a roll over about a 3 week period.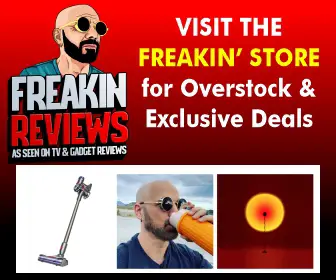 Flex Tape in the television offer isn't cheap, and the company charges a fee for shipping and a separate fee for processing, which are about $10 each. That amounts to about $40 for a 5-foot roll of tape, which seems completely out of line with other brands of high-end repair tape. Compare that price to a roll of FiberFix of the same dimensions, which costs about $10 on Amazon. Fortunately, you can find Flex Tape for far less in stores, and that is where I recommend looking if you want to try it.
For my first test, I put a piece of PVC pipe between two hoses, and cut a slit in it. I then applied Flex Tape while water was running. It it was awkward and I did not apply it correctly. I left that part in the video below to show you that it is easy to make a mistake, and it could be difficult to remove Flex Tape if you don't get it right. It took me over 5 minutes to remove the tape from the PVC pipe so I could try again.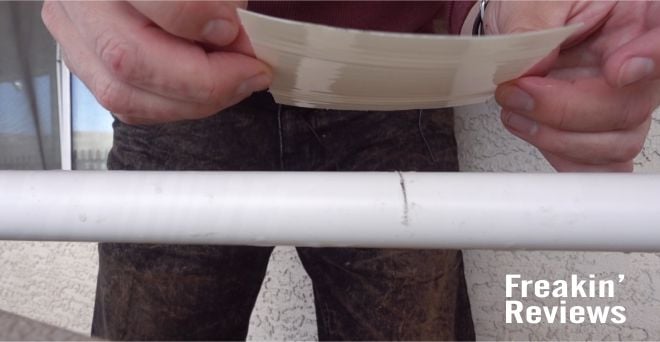 For my second PVC attempt, I carefully applied the tape without the water on, then smoothed out any bubbles and then turned on the spigot. I still had a small stream of water flowing from underneath the Flex Tape, despite repeated attempts to smooth out any remaining bubbles.
My second test involved a large bucket, with a 1 inch hole drilled near the bottom. I filled the bucket with water and corked off the opening. I then removed the cork and slapped a piece of Flex Tape over the hole. It did stop the leak for the most part, but a few drops continued to come from underneath the tape. After four hours, and repeated attempts to remove bubbles, a small amount of water still drizzled from underneath the tape. Despite not being 100% sealed, I still found the tape to be impressive in this scenario, given that it stopped a 1 inch flowing leak.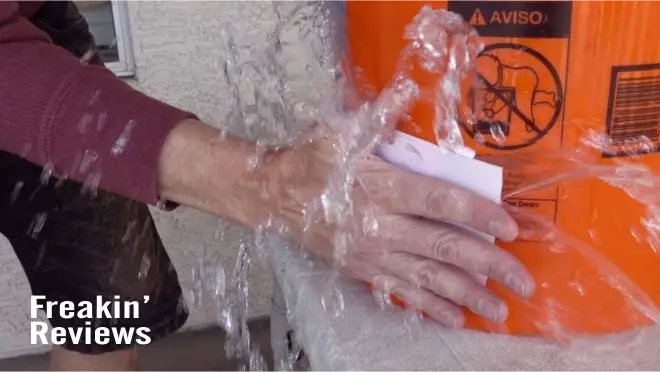 For my final test, I wanted to see if I could apply Flex Tape while submerged under water. I cut a hole in a plastic container and filled it with water. I then applied Flex Tape from the inside, and the leak almost completely stopped. I then applied a second piece of tape on the outside, and the leak did finally stop.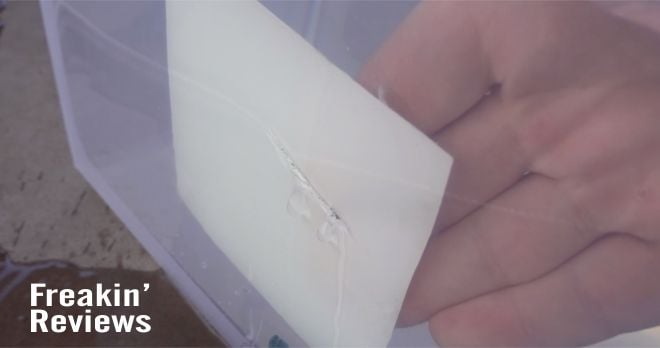 I think that the reason there could be some leaks that aren't completely sealed could be due to the type of repair and the condition of the surface. A jagged or uneven surface could create bubbles under the tape which could allow water to seep out. Despite my tests not showing a 100% success rate, I found the tape to be quite strong and sticky. It may not be able to completely repair every leak, but I can't say I've ever seen a tape superior to Flex Tape in regards to strength.
Tell me what you think about Flex Tape in the comments below.
Alternatives
As noted above, the most popular alternative, which has been touted for most of the same uses as Flex Tape, is probably FiberFix. That product first came to prominence on Shark Tank several years ago, and comes in a variety of sizes.
Another popular choice is Gorilla Touch & Wide Tape, which costs about $12 for a 30-yard roll.
Below is my full review of Flex Tape.
Your Flex Tape Reviews
Have you used Flex Tape? Let us know what you think by leaving a comment below and a star rating above.