FlexAble Bungee Hose is an expanding hose that is said to be six times stronger than the competition. Read our FlexAble Bungee Hose review.
Sponsored Links
About FlexAble Bungee Hose
FlexAble Bungee Hose is an expandable hose which is said to solve some of the durability concerns with other expandable hoses. The official product website is buybungeehose.com, which was registered in September 2014. The screenshot below shows the official website in July 2016.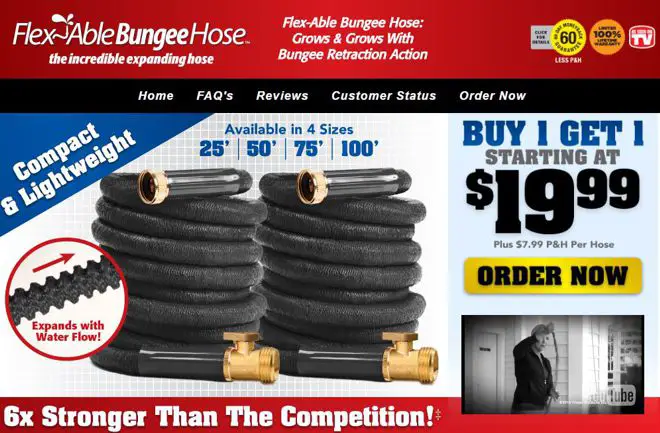 Claims and Features
Expands and contracts with "bungee retraction action"
6x stronger than other hoses
Compact, lightweight
Seamless
Cost
You can get the FlexAble Bungee Hose for the following prices:
Sponsored Links
25 foot hose: $19.99 + $7.99 P&H
50 foot hose: $29.99 + $8.99 P&H
75 foot hose: $39.99 + $9.99 P&H
100 foot hose: $49.99 + $10.99 P&H
You can also double your offer by adding a second hose for additional P&H.
Expected delivery time is about 7 to 10 days.
FlexAble Bungee Hose Review
It was only a few years ago that expandable hoses exploded (pun intended) on the market with several big players jumping on the bandwagon. The first round of those hoses did not live up to the advertising promises, often exploding, leaking, or ripping after only a few uses. Lawsuits were filed, and new versions came out.
The FlexAble Hose and Pocket Hose were two early entries in this category, and in 2016 both brands are back with their own bungee versions of the expandable hose. You may want to peruse our Pocket Hose Bungee review here.
It would appear that the FlexAble hose has done a pretty good job of addressing many consumer complaints with earlier expandable hoses. The bungee variety seems less problematic regarding leakage and explosions. You may find less water pressure than expected, but the overall performance of the hose is better than previous versions. You may also want to order a size larger than you think, as these hoses only reach their maximum length when stretched quite taut.
This hose is not yet available in stores. When it does arrive in stores, it will be a better deal without the shipping costs factored into the price.
If you'd like to compare FlexAble Bungee Hose with more established competition, take a look at the 100 foot expandable Tuff! Hose, which has quite solid consumer ratings.
There are also a number of other expandable hoses on the market which you may want to compare to the FlexAble Bungee Hose before making your final decision.
Overall, our product researchers feel that the FlexAble Bungee Hose is an improvement over earlier FlexAble Hose offerings. It may not be the best in its class, but perhaps a worthy competitor.
Your FlexAble Bungee Hose Reviews
If you've used FlexAble Bungee Hose, please give us your opinion by leaving a comment below and a star rating above.