Flexi-Readers are compact and arm-less reading glasses with magnifying lenses. Do they work as advertised? Here is our Flexi-Readers review.
Sponsored Links
About Flexi-Readers
Flexi-Readers are sturdy pocket-sized reading glasses that are available in 4 different magnification strengths. The official website is flexireaders.com, with a registration date of February 2017. The screen capture below was taken of the product website in April 2017.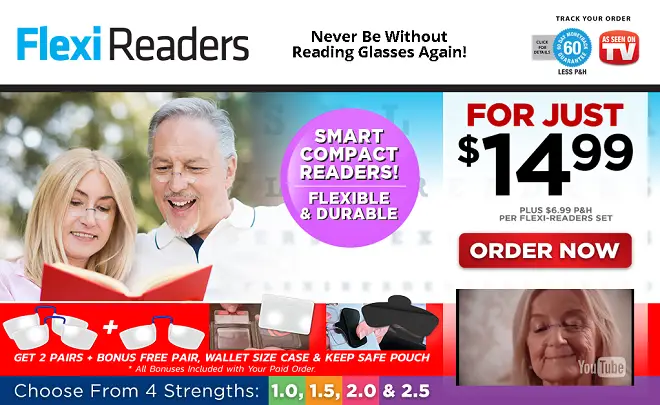 Claims & Features
Available in 4 different magnification strengths
Ergonomically designed
Will fit in the credit card slot of a wallet
Arm-less design means no irritation
Sturdy, compact, & flexible
One size fits all
Cost
A pair of Flexi-Readers costs $14.99 + $6.99 P&H for a total of $21.98. There are 4 options for magnification strengths: 1.0 for under 40 years old, 1.5 for ages 40-45, 2.0 for ages 45-50, and 2.5 for those over the age of 50.
Flexi-Readers Review
Flexi-Readers are compact reading glasses that can be easily accessed and stored. They don't use arms to hook over your ears, but rather a design that automatically holds it to your nose. When I first saw the commercial for Flexi-Readers, I immediately recognized the product, although by a different name. I'll discuss that in more detail below. I also thought of Steve Martin's "Opti-Grab" from the movie The Jerk, but that's another story.
Sponsored Links
If you regularly use reading glasses, like I do, you know that it can be troublesome to keep track of them, especially as you move about the house or when you're on the go. Flexi-Readers is a product designed to help keep your glasses with you at all times. This is made possible due to their compact size and handy carrying case.
The four available strengths should be sufficient for most people, although someone like my mom, who requires a very high strength, may not find even the strongest lenses powerful enough. There are two different types of cases included, a carrying case that can slip in the credit card slot of a wallet, and a "keep safe pouch" which can attach to the back of your phone.
Based on its limited advertising and recent website registration date, it appears that Flexi-Readers may be in a test marketing phase to gauge customer interest. It has been my experience that test marketed items can take weeks to ship and may change names or design before going into full production. It will be interesting to see if this item can make it to full production, especially since another established product with virtually the same design is already widely available.
The Alternative: ThinOptics
Flexi-Readers could probably be described as the As Seen on TV version of (or perhaps "knockoff of") ThinOptics. If  you've seen ads online for ThinOptics, you'll see the stark similarities between these two products, and ThinOptics came well before Flexi-Readers. The ThinOptics website was registered back in 2010, while the Flexi-Readers website was only registered in 2017. The available strengths are the same between the two products, and the designs are quite similar, even down to the case which can attach to your phone. Keep in mind that ThinOptics offers a lifetime guarantee and is known for its very responsive customer service. Flexi-Readers is too new to even much of have a reputation thus far. I also feel that ThinOptics sports a more attractive design, particularly at the bridge, where it seems to blend better than with Flexi-Readers.
I use ThinOptics regularly, and I wouldn't substitute them for another brand. That's not to say that Flexi-Readers don't work, only that I am happy with the product I already own.
You can find ThinOptics in stores or online (including their Amazon storefront). The price varies, but I purchased ThinOptics with a case and two glasses for $20 at Target.
Television Commercial
Your Flexi-Readers Reviews
What are your thoughts about Flexi-Readers? Drop a comment below and a star rating above to let us know what you think about it.