Flip Board is an ironing board that flips so you can iron both sides quickly and easily. Does it actually work? Read our Flip Board review.
Sponsored Links
About Flip Board
Flip Board is a rotating ironing board, which can speed up the ironing process. The official product website is buyflipboard.com, which was registered in September 2016. The screen shot below was taken of the product website in January 2017.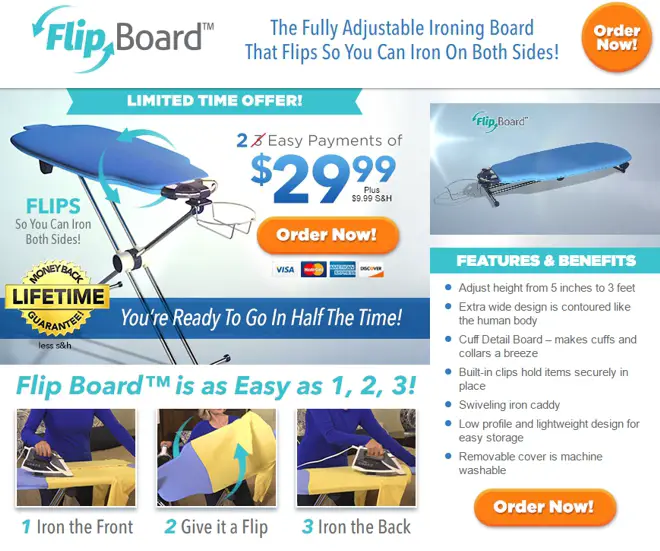 Claims & Features
Fully adjustable ironing board, from 5 inches to 3 feet
Flips so you can iron on both sides
Cuff detail board
Built-in clips
Removable cover can be machine washed
Swivel iron caddy
Cost
You can get Flip Board for two payments of $29.99 + $9.99 shipping, for a total cost of $69.97.
As of this writing, we haven't seen Flip Board in stores.
Sponsored Links
Flip Board Review
Note that this is a review for the As Seen on TV product known as Flip Board, not to be confused with Flipboard, which is a popular website and app.
Flip Board is an ironing board that features a rotating board, allowing you to iron both sides of a shirt with a simple flip. To use Flip Board, you simply place a shirt over the board, iron one side, flip, then iron the other side.
The key to Flip Board is the rotating board, which sports a slightly different shape than a traditional ironing board. The board itself is attached to the frame by an axle which allows you to slightly lift the board, rotate it over, and set it back down to access the other side of the garment.
This design is primarily aimed at ironing shirts, which can be inserted over the wide end and ironed on both sides. The flipping feature doesn't really offer much advantage when ironing pants or other garments.
Flip Board offers a few nice features including an iron caddy, which also swivels. You can place your iron here without taking up valuable board space. The height can be adjusted up to 3 feet, which should suit most people who iron at waist height. Built-in clips are included, allowing you to keep your items in place more securely.
The popularity of ironing clothes has decreased dramatically in recent years. Reasons for this decline range from newer fabrics which don't require it, to the use of clothes dryers in place of ironing. Whatever the reason, if you are one of the holdouts who still irons your shirts, we feel that Flip Board offers enough feature to be a worthy consideration. Keep in mind that it doesn't help much with pants or other clothing, but it can certainly speed up ironing shirts, which could be a valuable tool to some consumers.
Alternatives
You may be hard-pressed to find other ironing boards that rotate in the same manner as Flip Board. There is a brand called Dazzl, which also offers 360-degree ironing boards, which cost considerably more than Flip Board.
Your Flip Board Reviews
Have you used Flip Board? Let us know what you think by leaving a comment below and a star rating above.