Flip N Play Friends are cuddly animal toys that fold into pillows. Do they really work? Here is my Flip n Play Friends review.
Sponsored Links
About Flip n Play Friends
Flipazoo Flip n Play Friends are similar to stuffed animals, but can be folded into a pillow that looks like a different animal. The official product website is flipnplayfriends.com, which was registered in June 2017. The screenshot below shows how the product website looked in October 2017.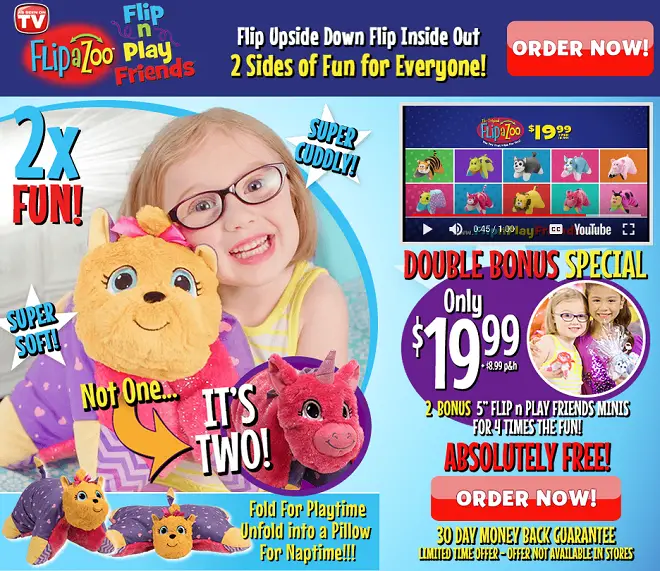 Claims & Features
Toy that folds into a pillow (in the shape of two separate animals)
Cushioned and cuddly
Available in 10 different styles and 20 characters
For girls and boys
30 day money back guarantee (minus shipping)
Cost
A single Flip n Play Friend costs $19.99 + $8.99 shipping for a total of $28.98. There are 10 different styles to choose from: Tiger/Elephant, Dragon/Colorful Troll, Polar Bear/Husky, Blue Dog/Rainbow Troll, Cow/Pig, Butterfly/Teal Cat, White Unicorn/Pink Cat, Lion/Monkey, Pink Unicorn/Yorkie, and Ladybug/Frog. Each order also comes with two 5″ Flip n Play Friends Minis. At the time of this writing, this offer is not available in stores.
Sponsored Links
Flip n Play Friends Review
If you've seen the commercial for Flip N Play Friends, it may have seemed familiar to you. That's because the maker, Jay at Play, has produced a series of similar plush pets in recent years. Previous offerings include FlipAZoo, SlipAZoo, and Flip Zee Girls. Flip N Play Friends share a similar design to these previous Jay at Play offerings by allowing kids to turn their pets inside out to reveal a second design.
Flip n Play Friends is a large pillow with a character head on one end. The pillow can be flat or stood up on its "legs" for display. If you flip the entire pillow over, the other side offers completely different markings.  The head itself can be turned inside out to reveal a different character that will match the other side of the pillow. Aside from the "flipping" action, there isn't much you can do with Flip N Play Friends, other than cuddle with it, display it, or use it as a pillow.
I have evaluated several Jay at Play products first-hand over the years, and I've found them to be well-made and function as advertised. The material they use for these products is soft and comfortable, and kids have generally expressed positive remarks about the brand as a whole.
Jay at Play is an established manufacturer of stuffed animals for kids. The company's BBB rating has fluctuated in recent years, which as of this October 2017 writing sits at a B minus. Most of the complaints I've seen about Jay at Play is usually because a customer was unhappy that a product took too long to receive. My guess is that such a situation occurs mainly with newer products that haven't made it to full production when initially advertised. More established Jay at Play products are rarely accompanied by such complaints.
Alternatives
If you're looking for more of a stuffed animal than a pillow, you might want to look at the original FlipAZoo, which can be found on Amazon Prime. If you're more interested in character pillows, you can find a nice variety of Nickelodeon pillows for under $20.
Television Commercial
Your Flip n Play Friends Reviews
Have you used Flip n Play Friends or something like it? Leave a comment below and a star rating above to let us know your thoughts.