Flip Zee Girls are dolls for girls that "flip" from a baby into big girl. Do they actually work? Read our Flip Zee Girls review.
Sponsored Links
About Flip Zee Girls
Flip Zee Girls are dolls for girls which can be converted to a baby to a big girl with simple flips of the bonnet or swaddle. The official product website is flipzeegirls.com, which was registered in August 2016. The screen shot below was taken of the product website in January 2017.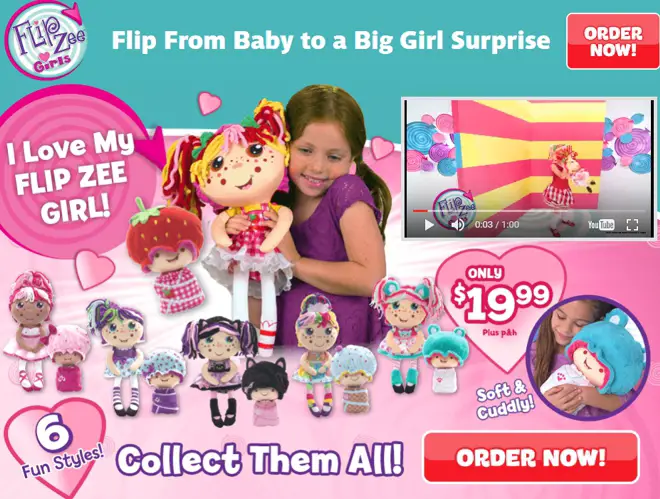 Claims & Features
"Flips" from baby to big girl
6 different styles
2 dolls in 1
Colorful hair with unique dresses
Cost
Each Flip Zee Girl costs $19.99 + $9.99 shipping for a total cost of $29.98.
Sponsored Links
As of this writing, we haven't seen Flip Zee Girls in stores.
Flip Zee Girls Review
Flip Zee Girls were promoted in late 2016 with a holiday advertising campaign, which has continued into 2017. The product is a doll for girls which has two sections that allow it to be converted back and forth from a baby to a big girl.
The dolls are surprisingly large, and that doesn't include the upcoming "jumbo" variety. Each of the six designs includes freckles, colorful hair, and cute dresses.
To use a Flip Zee Girl, you can pull the swaddle over the feet and the bonnet over the head to reveal a "baby" design. Removing these will convert it back to a "big girl" look.
Overall, if the television commercial looks compelling to you and your child, we think you'll be satisfied with Flip Zee Girls. We believe the product will look and perform about as expected.
Flip Zee Girls is a product of Jay at Play, an established manufacturer of stuffed animals for kids. The company's BBB rating has fluctuated widely over the past year, which as of this January 2017 writing sits at a B minus.
Keep in mind that Flip Zee Girls is still a relatively new item, which means shipping can sometimes be slower than that of more established products.
Alternatives
You may recall a product in recent years called FlipaZoo, which functions similarly to Flip Zee Girls and is also marketed by Jay at Play. There are also numerous convertible stuffed animals that change into different characters or designs.
Television Commercial
Your Flip Zee Girls Reviews
Have you used Flip Zee Girls? Let us know what you think by leaving a comment below and a star rating above.