Flippin' Floppy is a flexible splatter ring that can be used in pots or pans while cooking. Does it work as advertised? Here is our Flippin' Floppy review.
Sponsored Links
About Flippin' Floppy
Flippin' Floppy is a silicone ring that can be placed around the edges of a pot or pan while cooking to prevent food splatter. The official website is flippinfloppy.com, with a registration date of March 2017. The screen capture below was taken of the product website in May 2017.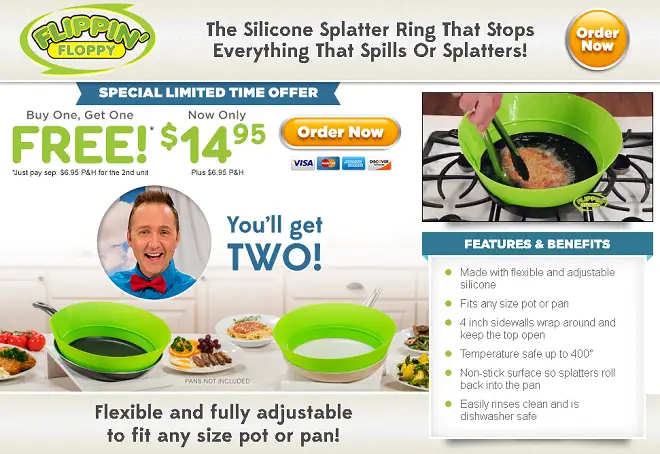 Claims & Features
Manufactured from bendable silicone
Compatible with any pot or pan
Circular sidewalls 4 inches high
Withstands temperatures up to 400 degrees
Nonstick surface
Rinse clean or place in dishwasher
Cost
Flippin' Floppy costs $14.95 + $6.95 mandatory double offer + $6.95 P&H for a total of $28.85. At the time of this writing, Flippin' Floppy is not available in stores.
Sponsored Links
Flippin' Floppy Review
You've probably used old-fashioned splatter screens in the past. Those items reside over a pan and prevent most of the splatter from shooting upward and onto your stove, counters, or cabinets. With Flippin' Floppy, the design is slightly different. This silicone ring is a conical shape that resides partially in your pan and extends upward, providing a higher wall than your pan offers.
To use Flippin' Floppy, you simply take one end and line up notches with holes on the other end in order to properly size it for your pan. You then place inside your pan, around the edges, and then cook as you normally would. Sizing Flippin' Floppy could take some getting used to, but eventually you'll learn which notch should be used for different sized pans.
As you cook, much of the splatter will be caught by the high walls and will drip back down into the pan. When you are done, Flippin' Floppy can be placed in the dishwasher or cleaned in the sink with warm soapy water.
There will be a learning curve involved, as you will have to accommodate the higher walls as you cook. Stirring or turning food, for example, may require that you hold your utensils at a different angle than usual.
I think in most cases Flippin' Floppy will catch most – but not all – of the splatter on your stove. If your expectations are realistic, you'll probably like it.
What I like the least about this product is the current mandatory double offer. This means you are on the hook for almost $14 in non-refundable shipping for two units, even if you decide to return them. And, because Flippin' Floppy appears to be a new (possibly test-marketed) item, you could find yourself waiting weeks to receive it.
I'm a little surprised that this product was been branded under the Flippin' name after the Flippin' Fantastic pancake maker was met by so many scathing reviews online. Perhaps this will be the brand's redemption.
Alternatives
It probably comes as no surprise that you can find silicone splatter guards that closely resemble this product online. You can find a line of splatter guards by Frywall, for example, that looks and performs the same as Flippin Floppy. It may be worth perusing some reader comments about that item before making your purchase decision.
Your Flippin' Floppy Reviews
What are your thoughts about Flippin' Floppy? Drop a comment below and a star rating above to let us know what you think about it.