Flutter Frenzy is an interactive cat toy that imitates the appearance, sounds, and movements of a real bird. Does it work as advertised? Here is our Flutter Frenzy review.
Sponsored Links
About Flutter Frenzy
Flutter Frenzy is a toy for cats that features an imitation bird inside of a plastic cage attached to a wobbling weighted base. The official website is flutterfrenzy.com, with a registration date of January 2017. The screen capture below was taken of the product website in June 2017.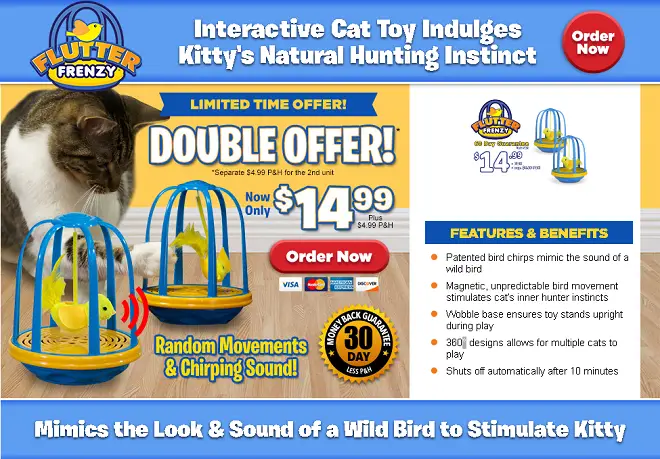 Claims & Features
Imitation chirps simulates the sound of a real bird
Movements provoke natural feline hunting instincts
Weighted wobble base keeps the toy standing upright
Multiple cats can play due to 360° design
Automatic shut off after 10 minutes
Cost
Flutter Frenzy costs $14.99 + $4.99 for mandatory double offer + $4.99 P&H for a total of $24.97. At the time of this writing, Flutter Frenzy is not available in stores.
Sponsored Links
Flutter Frenzy Review
I have seen so many cat toys in the As Seen on TV world in recent years, such as Wiggle Tower, Kitty Chase, Meow Go Round, PokeBoo, Accordion Cat Tunnel, Kool Cat Gym, Kitty Cat Dance Club, Kitty Cat Laser Light. And that's only in the past year. Now with Flutter Frenzy, we have a toy bird cage that moves and chirps.
The movement and sound of Flutter Frenzy will almost certainly grab the attention of most cats. The wobbly base and fluttering bird will probably be too enticing for most cats to ignore, at least at first. For that, I think the product is probably good at getting attention.
It's not particularly large, and bigger cats will tower over it. My biggest concern is how durable the bird will be over time, despite the claim that the "durable string won't break." Cats will want to paw at it, and if an enthusiastic cat gets its claws into the toy bird, I can see it being torn off, or at least torn apart. The cage itself is rather flimsy plastic, but probably still suitable for its purpose here.
The big variable with any cat toy is the cat itself. As a cat owner, I know how unique each feline is. A toy that will enthrall some cats will be completely ignored by others. If you think your cat will play with this toy, it's probably a safe investment. If you aren't sure, you may want to wait and see if this arrives in stores before taking the plunge.
Speaking of arriving in stores, as far as I can tell, Flutter Frenzy appears to be a new, test-marketed product. I've seen so many test-marketed pet toys come and go, so there is no guarantee this will be around a few months from now. It's also possible that it may change or evolve over time. If anything does change, I'll update this space.
Alternatives
Perhaps the closest I've seen to Flutter Frenzy is the Petlinks Electronic Motion Cat Toy, which costs about $10 and holds a respectable rating among consumers.
Your Flutter Frenzy Reviews
What are your thoughts about Flutter Frenzy? Drop a comment below and a star rating above to let us know what you think about it.