Flux HD Zoom Review: Smart Phone Zoom Lens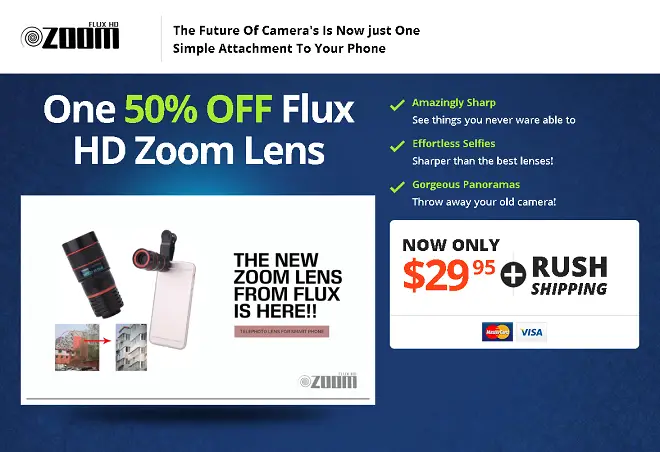 Flux HD Zoom is an clip-on telephoto lens attachment for smartphones and tablets. Does it work as advertised? Here is our Flux HD Zoom review.
Sponsored Links
About Flux HD Zoom
Flux HD Zoom is a high-clarity magnifying lens that mounts over the camera on a cellphone or tablet. The official website is buyluxhdzoom.com, with a registration date of March 2017. The screen capture below was taken of the product website in July 2017.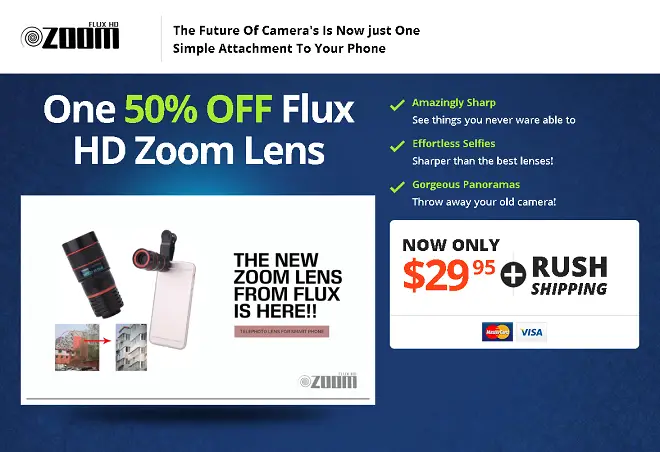 Claims & Features
Usable with most smartphones and tablets
12x optical zooming magnification
Ultra multi-coated for improved contrast in many lighting conditions
Attaches to device with adjustable clip-on bracket
User-friendly
Cost
Flux HD Zoom costs $29.95. At the time of this writing, Flux HD Zoom is not available in stores.
Flux HD Zoom Review
Flux HD Zoom is a telephoto lens that clips onto your phone or tablet, allowing you to zoom up to 12x. To use Flux HD Zoom, you simply clip it onto your device so that the lens perfectly covers your phone's camera. You can turn the focus ring in order to get the optimal sharpness, and then simply take photos as your normally would. Flux HD Zoom is compatible with most smartphones, although the iPhone 7's dual-lens won't work with this item.
Sponsored Links
The claims in the advertising are pretty bold, stating that this lens can out-perform "the best lenses." Having used a number of lenses like this, and spoken to people who have used them, I can see why reviews are so mixed. On one hand, it does clip onto phones easily and zoom as advertised. The more pieces of glass you put between your target and your lens can only lead to more image degradation, however, so don't expect miracles.
That said, I would say that the zoom is probably better than digital zoom on most smartphones, so if that's something you use often, this could be a step up from that. Will it replace your DSLR or even a point and shoot? Probably not. It's significantly more convenient than carrying around a full camera, however, although you do have to take time to clip it onto the phone whenever you want to use it. Obviously it can't remain clipped on while you carry it in your pocket. Even if you wanted to keep it attached while in a purse, eventually the clip will be bumped and the lens will move around to the point that it will need to be re-adjusted.
I believe that reviews for this type of lens are mixed due to consumer expectations. Those hoping for a DSLR-like lens will probably be disappointed, but those who just want some extra zoom power without going into the dreaded "digital zoom" territory may find this to be useful.
Flux HD Zoom isn't the only game in town, as these types of lenses are quite common, and many are available locally or with quick shipping via Amazon. You may want to peruse comments for nearly identical lenses, discussed below.
Alternatives
Flux HD Zoom is remarkably similar to a number of other products, right down to the color accents on the housing. Take a look at this $15 12x camera kit, or this $18 model by Blue Lightning, or even this $12 version by BlueBeach. It's difficult to look at those three alongside Flux HD Zoom and not suspect that these could be re-branded versions of the same generic design. I don't know if there is any relationship between them, but that's my suspicion. That was the same sceneario with several As Seen on TV tactical flashlights and lanterns that advertised in 2016.
Your Flux HD Zoom Reviews
What are your thoughts about Flux HD Zoom? Drop a comment below and a star rating above to let us know what you think about it.