FoodSaver is a vacuum-sealing food system.
Sponsored Links
About FoodSaver
FoodSaver is a vacuum-sealing system which allows food to be sealed, and money to be saved.
The product website is foodsaver.com, which was registered in February 1996. The screen capture below shows the official website in November 2015.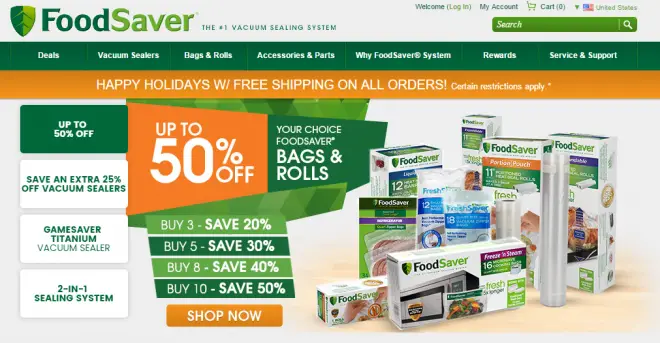 What They Claim
2-in-1 sealing system
Save up to $2700
Top-rated performance
Keeps food fresh longer
FoodSaver Cost
You can find a variety of models online ranging from a $14 handheld model, up to the $450 GameSaver advertised on television.
Reviews
Vacuum sealing food is certainly not a new concept, as products in this category date back decades. In recent years, however FoodSaver has become one of the de facto brands customers turn to when they consider vacuum sealing options.
Sponsored Links
Although some consumers new to the brand may think that "FoodSaver" is a single product, there are actually a wide variety of products available, making the brand affordable to nearly everyone.
The lower end models do not come with all of the bells and whistles that the higher end models do, although they all possess the same basic function of vacuum sealing food. Some of the higher end models include automatic feeding, marinating options, etc.
Overall FoodSaver is a brand that boasts relatively high ratings and customer satisfaction. Those who use the product most find that they are able to store meats and leftovers for long periods of time, which can ease the monthly grocery budget.
As to which brand to purchase, you may want to reference the chart on this page, which shows all of the primary differences. If you're on a budget, but still have a little money to spend, you may want to opt for the V3460, which is an entry-level sealer in their automatic series. You can find that one for around $150.
A minority of users have complained that the unit begins sealing before all the air is pulled out of the bag. This is typically due to a bad or faulty gasket. The company offers a 1 year warranty, and should be able to provide new gaskets if this happens to you.
Television Commercial
Your FoodSaver Reviews
Let us know what you think of FoodSaver by leaving a comment below and a star rating above.