Foot Bumper is an anti-slip insert for heels, sandals, flats, and flip flops. Read our Foot Bumper review.
Sponsored Links
About Foot Bumper
Foot Bumper is a small insert for shoes which prevent feet from slipping. The product website is footbumper.com, which was registered in January 2016. The screen shot below shows the official website as it appeared in August 2016. Note that the price has since changed.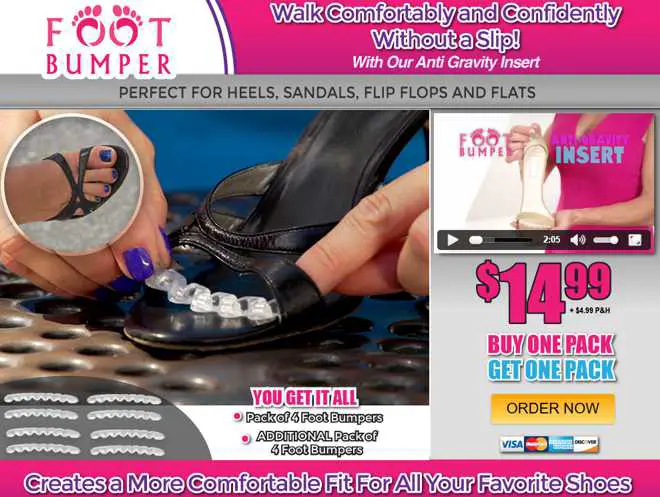 Claims & Features
Works with heels, flip flops, sandals, and flats
Cushioned comfort gel
Prevents feet from slipping
Medical grade adhesive keeps them in place
Works with bare feet or stockings
Cost
Note that the screen shot above shows pricing that has since changed.
You can get Foot Bumper from the official website for $19.99 + $5.99 P&H. This includes two 4-packs of Foot Bumpers.
There is a 30-day money back guarantee, minus P&H. As of this writing, Foot Bumper is not available in stores.
Sponsored Links
Foot Bumper Review
The idea behind Foot Bumper is simple: A discreet anti-slip insert that can support feet and prevent them from slipping. While anti-slip inserts have been around for years (see below), the design of Foot Bumper is somewhat unique. Traditional inserts are typically a longer anti-slip pad that touches the sole of your foot, but Foot Bumper resides where the toes meet the ball of the foot to hold feet in place.
Pitched by Taylor Baldwin, Foot Bumper works by creating a sort of "speed bump" behind the toes where the ball of the foot rests. This prevents the foot from sliding, which can cause foot pain and lead to an unsightly fit.
Foot Bumper is attached by means of an adhesive which should stay in place on most shoe surfaces. Once in place, the ball of your foot will come to rest against Foot Bumper, preventing slippage.
Cost-wise, we feel that Foot Bumper is appropriately priced, as the current offer provides enough for four pairs of shoes, while other inserts can run as much as $20 for a single pair.
Overall, we like the design of Foot Bumper. If you've tried regular non-slip inserts without luck, this new take on the design may be an ideal fit for you. If you already use inserts that work for you, Foot Bumper may not bring anything new to the table.
Alternatives
Foot Bumper is a great idea, but you can find other anti-sleep heel inserts of various designs. You may want to take a look at more traditional self-sticking adhesive pads such as this pair which run about $9.
Television Commercial
Your Foot Bumper Reviews
What do you think of Foot Bumper? Give us your opinion with a comment below and a star rating above.
Updated January 2017 to reflect updated pricing.