Forever Steel Hose Review: Does This Steel Hose Work?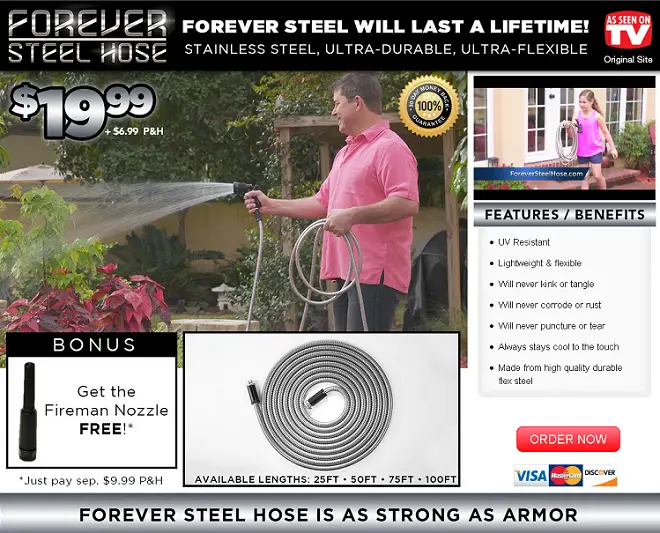 Forever Steel Hose is a sturdy and flexible stainless steel garden hose that will not tangle or kink. Here is my Forever Steel Hose review.
Sponsored Links
About Forever Steel Hose
Forever Steel Hose is a lightweight garden hose covered in flexible stainless steel. The product website is foreversteelhose.com, which was first registered in March 2017. The screen shot below shows how the product website looked in April 2017.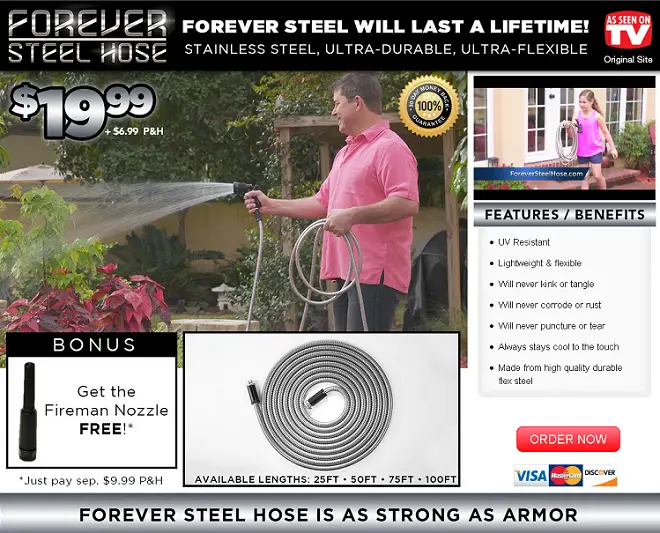 Claims & Features
Resistant to UV rays
Flexible & lightweight
Won't tangle or kink
Won't rust or corrode
Won't rip or rupture
Remains cool to touch
Made of sturdy flex stainless steel
Cost
25 ft. – $19.99 + $6.99 P&H for a total of $26.98
50 ft. – $39.99 + $7.99 P&H for a total of $47.98
75 ft. – $59.99 + $8.99 P&H for a total of $68.98
100 ft. – $79.99 + $9.99 P&H for a total of $89.98
There is also an option to receive a bonus Fireman Nozzle for an additional P&H charge of $9.99
Forever Steel Hose Review
If you spotted an ad for a metal hose recently, it could have been for Forever Steel Hose, or it could have been for one of the other metal hoses that suddenly began advertising this year.
Indeed, Forever Steel Hose is one of five hoses I have now seen advertising just since the beginning of 2017. The other four hoses I've seen are Bionic Steel Hose, Flex Steel Hose, Hercules Hose, and Metal Garden Hose.
Sponsored Links
In the "As Seen on TV" industry, it has become commonplace to see two or more very similar products appear around the same time, but marketed by different companies. It would appear that all of the major As Seen on TV marketers have decided that 2017 will be the year of the metal garden hose, and they have all jumped on the bandwagon with their own versions. In fact, I have an entire blog post dedicated to 2017 "As Seen on TV" hoses.
Because I like to get a first look at these types of devices, I was able to secure a Metal Garden Hose rather early in this avalanche of metal hoses. And, while I haven't seen Forever Steel Hose yet, I can give you a pretty good idea of my experience based on the nearly identical Metal Garden Hose. When I get a Forever Steel Hose, I'll update this space.
Until then, let's take a look at some of the claims that all five of these hoses are making in their advertising, and compare that to what I have learned so far.
It's lightweight. My 50 foot metal hose is about 5 pounds, so that claim seems to be accurate.
Will never kink or tangle. Metal hoses don't kink, and even when I tried to tie mine in a knot, it continued to spray water quite well. To say they don't tangle doesn't seem accurate, however. I consider a knot to be a tangle, and these can get knotted as easily as a regular hose. The only benefit is that knots don't seem to affect water pressure.
Forever Steel Hose is highly durable. That is one of the big selling points for all of these hoses, and I've found such claims to be generally accurate. I ran over my hose with a car, pulled it across sharp edges, and even wrapped it around a cactus, and it continued to perform without a hitch.
Weather-proof, and stays cool to touch. So far my metal hose has held up while being out in the elements. I will test it in the scorching Las Vegas heat this summer to see how cool it really stays.
High-pressure hose sprays father than regular hoses. I think my hose performed well in the "distance" tests I put it through, but I'm not sure how much of an advantage it would have over a regular hose regarding spray distance. It has been sufficient to my needs, however.
Overall, I think this new breed of hoses is an excellent alternative to regular hoses. It seems to be a five-way battle of superiority for five nearly-identical products. Who comes out on top may be determined by which company has the best marketing plan.
It seems to me that Metal Garden Hose has a leg up on Forever Steel Hose, and the rest of the fray, because it is already available in stores for the same price, and no shipping costs.
Alternatives
As stated above, Metal Garden Hose has the most visibility among this breed of hoses. You can find it in stores and online, and reviews are mostly positive.
You can see my hands-on review of Metal Garden Hose, which is nearly identical to Forever Steel Hose.
Your Forever Steel Hose Reviews
What do you think of Forever Steel Hose? Tell us what you think by leaving a comment below and a star rating above.