Forever Wiper is a wiper blade sharpener that works on any vehicle.
Sponsored Links
About Forever Wiper
Forever Wiper is a wiper blade sharpener that restores old wiper blades to a like-new condition.
The product website is foreverwipers.com, which was registered in January 2016. The screen capture below shows the official website in February 2016.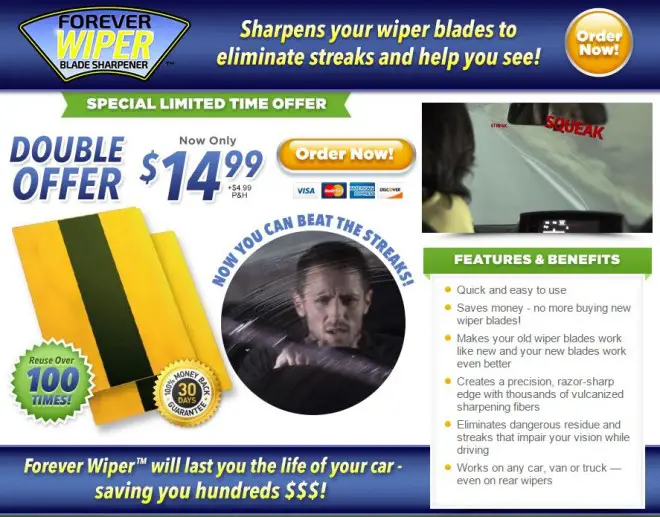 Sponsored Links
What They Claim
Easy to use
Saves money
Allows old wiper blades to work like new, and new blades to work better
Creates sharp edge
Removes harmful residue
Works on any vehicle
Forever Wiper Cost
A set of two Forever Wipers costs $14.99 plus $4.99 P&H for a total cost of $19.98.
Reviews
Forever Wiper could be described as a sort of knife sharpener for wiper blades. To use, you simply place the Forever Wiper mat on your windshield and turn on your wipers for a few passes. As they pass over the mat, they are sharpened in the same way that knives are sharpened. This is said to restore your wipers to a like-new condition.
The product looks and feels somewhat like a piece of one-sided sandpaper. As the wiper blades run over the product, the rough material is said to sharpen the blades. How effective is it? We have yet to establish a consensus opinion about the product.
Forever Wiper appears to be a new product, based on its 2016 domain registration and limited number of advertisements thus far. New As Seen on TV products are notorious for slow shipping, although there is no indication at this time that such is the case.
Our product researchers are somewhat skeptical that all consumers will be satisfied, as wiper blade sharpeners are not always as useful to some as to others. There may be several factors that play into your overall satisfaction, such as condition and design of your existing wipers.
There are a few wiper blade sharpeners to be found on Amazon, although none of them boast overwhelmingly positive reviews.
Your Forever Wiper Reviews
Have you used Forever Wiper ? Give us your review by leaving a comment below and a star rating above.