Fridge Mate is a sliding drawer that attaches to existing shelves to create more space. Does it really work? Here is my Fridge Mate review.
Sponsored Links
About Fridge Mate
Fridge Mate is an organization drawer that maximizes space by connecting to shelving that is already in place. The official product website is buyfridgemate.com, which was registered in July 2017. The screenshot below shows how the product website looked in October 2017.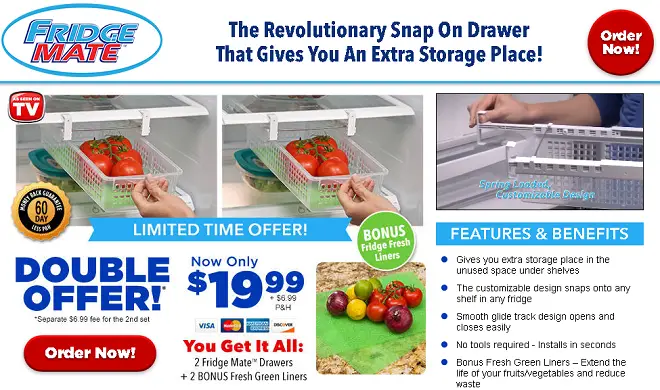 Claims & Features
Creates more storage under shelves
Compatible with any shelf/fridge
Opens and closes smoothly
Quickly installs without the use of tools
Includes liners to keep fruits and vegetables fresh for longer
Cost
There is a mandatory double offer when ordering Fridge Mate. The cost is $19.99 + $6.99 P&H + $6.99 double offer for a total of $33.97. It also comes with two Fridge Fresh Green Liners. At the time of this writing, Fridge Mate is not available in stores.
Sponsored Links
Fridge Mate Review
Fridge Mate is a plastic drawer that can be used in a variety of locations, such as the fridge on on a desk. To use Fridge Mate, you simply hook the back over the back of the shelf, slide it toward you, and snap the front of the unit over the front of the shelf. This will provide a hanging drawer that can be used to hold and organize small items.
First let's take a look at some of the "pros" regarding Fridge Mate. They are simple, attractive, and easy to use. Depending on how you use them, they can actually save you space in your fridge, or other areas. Fridge Mate can be used in the fridge, office, or garage.
On the "con" side of things, these are quite small for storage containers, barely bigger than the palm of your hand. The material is inexpensive plastic, and the arms may not easily clip onto thicker shelves or those with a lip.
Perhaps the biggest question is whether or not two small plastic drawers and two liners are worth $34, and in my case the answer would be "no." There are similar items sold on Amazon (see below) and I have yet to find one that has overwhelming positive ratings.
Also keep in mind that if you purchase Fridge Mate and decide to return it, you'll still be responsible for the initial shipping fees. If you opted for the "double offer" those fees will be over $10.
This appears to be a test marketed item, and my experience has shown test marketed As Seen on TV items are notoriously slow to ship. If you do decide to order this, I'd expect to wait many weeks for it to arrive. You could also consider a competing product which will ship faster, as discussed below.
Alternatives
There are other products remarkably similar to Fridge Mate, such as this $9 model, or this version with metal arms. Here is one of the most highly-reviewed versions on Amazon, although its consumer rating is still quite low. You may want to peruse comments on these alternatives and keep them in mind as they apply to Fridge Mate.
Your Fridge Mate Reviews
Have you used Fridge Mate or something like it? Leave a comment below and a star rating above to let us know your thoughts.