Glider Brush is a ceramic hair straightener that purportedly performs swiftly and safely. Does it work? Read our Glider Brush review.
Sponsored Links
About Glider Brush
Glider Brush is an electric straightening brush that straightens hair with an ionic charger and infrared heat sensors. The product website is gliderbrush.com, which was first registered in December 2016. The screen shot below shows how the product website looked in February 2017.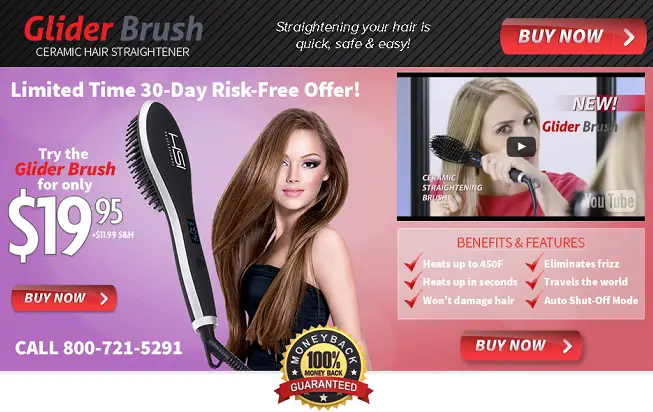 Claims & Features
Promptly straightens hair and removes frizz
Usable on all hair types
Quickly heats to 450F
Will not damage hair
Shuts off automatically
Cost
The advertised Glider Brush package costs $119.85 + $11.99 shipping for a total of $131.84.  There is an option to pay $19.95 + $11.95 shipping and then pay three monthly payments of $33.30, or you can pay the total cost all at once. This includes the glider brush, a glider straightener, a travel pouch, a protective glove, and argan oil spray.
Glider Brush Review
Glider Brush is a heated ceramic brush that allows you to straighten hair while you brush. If that sounds familiar, you've probably seen similar brushes advertising on television over the past year, such as Hot N Straight, Arc Styler, 6 Second Straight, InStyler Straight Up Brush, or Perfectly Straight.
Additionally, there have been several brushes and flat irons that claim to release ions, such as Hairology Refresh Brush, Solo Styler, Blow Dry Brush, and Esplee Straight Styler.
Indeed, styling brushes have been a darling of As Seen on TV marketers over the past year, and consumers have apparently jumped on the bandwagon because these have been hot-selling items.
Sponsored Links
With Glider Brush, we have a heated brush that heats up to 450 degrees and releases ions to eliminate frizz. Using Glider Brush properly is more akin to using a flat iron in that you use slow, steady passes through the hair, rather than brush strokes you'd use with a regular brush. You'll want to straighten hair in sections, in the same manner you would use a flat iron. As you can see in the advertising, holding each strand tightly will deliver the best results.
There is certainly a place for Glider Brush in the arsenal of some users. It can speed up the styling process by heating and brushing at the same time. You'll also find less damage to your hair because even though it reaches 450 degrees, your hair isn't being held between two hot plates.
It is difficult for a single styling tool to answer problems associated with all hair types, but Glider Brush should accommodate the majority of users. Glider Brush is probably best-suited to longer hair, and it may deliver perfectly-straight hair to some users, while only nearly-straight hair to others.
Perhaps the key to this, or other brushes in this category, is patience. Taking your time will deliver the best results.
Although ratings for Glider Brush are quite high, you will find a minority of complaints about various features, such as the inability to get very close to the scalp in cases of very curly hair. Additionally, although the website states that it heats "in seconds," some customers have said it can take as long as 5 minutes to fully heat up.
Overall, Glider Brush offers all of the features you'd want in a heated ionic brush, so I feel that most people who purchase it will be satisfied. Most consumers will find it easy to use, while it produces less frizz than standard straightening tools. It's ideal for beginners who are not adept at straightening or styling.
I haven't seen this in stores, so if you want to purchase this item, you'll be forced to go through the As Seen on TV offer or get it through Amazon (see below).
Don't let the "$19.95" offer fool you: The TV offer for Glider Brush is expensive, at about $120, although it does include a highly-rated straightener. Other heated ionic brushes I've seen over the past year range from about $40 to $100, putting this offer at the top end of that range.
If you're not interested in the TV offer which includes the straightener, you can simply pick up the HSI Glider Brush on Amazon for about $68. You may want to peruse consumer reviews there, where it currently holds an impressive 4.7 star rating among about 500 customer reviews.
Alternatives
You can find a large variety of heated straightening brushes, ranging in price from $20 up. The current Amazon best seller in this category is a heated brush by AsaVea, which runs about $65 and holds an impressive 4.7 star rating among over 600 consumer ratings. This is almost the same cost, rating, and number of consumer reviews as the Glider Brush.
Television Commercial
Your Glider Brush Reviews
What do you think of Glider Brush? Tell us what you think by leaving a comment below and a star rating above.