Glow Bright Festive Lights is a decorative holiday lighting projector. Does it work as advertised? Here is our Glow Bright Festive Lights review.
Sponsored Links
About Glow Bright Festive Lights
Glow Bright Festive Lights is a LED display projector that includes still and moving images for 12 different holiday themes. The official website is buyfestivelights.com, with a registration date of March 2017. The screen capture below was taken of the product website in June 2017.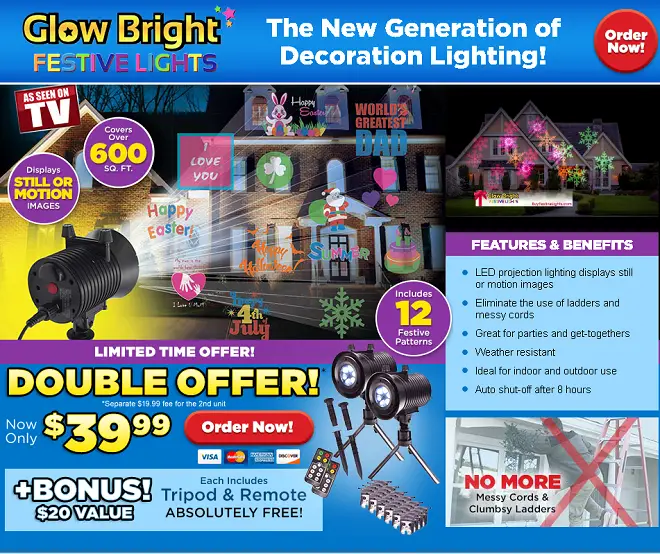 Claims & Features
Still & motion LED lighting display
Covers over 600 square feet
No need for ladders or cluttered cords
Weather resistant
Can be used outdoors or indoors
Shuts off automatically after 8 hours of use
Cost
A Glow Bright Festive Lights kit costs $39.99 + $12.99 P&H for a total of $52.98. There is an optional double offer for an additional kit for separate fee of $19.99 and free shipping. Choosing the double offer raises the total to $59.98. Each unit comes with a tripod, 12 changeable slide discs, and remote control.  The slide discs each have 4 design patterns, and include the following themes: birthday, summer, winter, 4th of July, Father's Day, Mother's Day, Easter, love, St. Patrick's Day, Halloween, Christmas, and celebration.
I spotted Glow Bright Festive Lights at a local Target for about $40.
Sponsored Links
Glow Bright Festive Lights Review
The last two holiday seasons saw huge increases in holiday light projectors, with the popularity of Star Shower Laser Lights in 2015 and its follow-up, Star Shower Motion in 2016. It would appear in mid-2017 that manufacturers are taking the unusual step of test marketing several different types of light displays to see which one they should finally push for the 2017 holiday season.
Glow Bright Festive Lights, however, appears to be more than just test marketed, as I have actually seen this in stores. Typically a test marketed item is produced in very low quantities to gauge whether consumers have any interest, but for Glow Bright Festive Lights to appear in stores, that means it has been produced on a larger scale than its test-marketed counterparts.
Glow Bright Festive Lights comes with 12 discs, each with a different theme, from birthday to St. Patrick's Day to Christmas. Each display is in full color, and offers four moving images that can be projected onto your home or walls. The projector itself can be used indoors or outdoors and is "weather resistant." A tripod and remote control are also included.
While the marketing looks impressive for Glow Bright Festive Lights, keep in mind that those are probably idealized images of how it will really look. If you want to project a large display onto your home, expect it to be dimmer and less vibrant than you see in the advertising. If you have street lights near your home, the projector will also not be as impressive as depicted.
The idea of projecting color images is a logical progression from Star Shower Motion, that itself was an update to Star Shower Laser Lights. And it's not alone. Other potential players in this next-gen battle include Window Wonderland, Fantasy Flicks, and Star Shower Laser Magic. And, even though these newer projectors include displays for occasions throughout the year, make no mistake that the marketers all have their eyes on the 2017 holiday season. I can't recall ever seeing a house lit up for Father's Day or Easter, so most of the 12 discs will probably go unused. There are two winter themed discs, along with Halloween, that I can see being used most.
The $13 shipping for Glow Bright Festive Lights is not refundable, so you may want to keep that in mind if you want to order it. I spotted this at a local Target, meaning there is no shipping, and the return process should be much less problematic, if necessary.
It will be interesting to see how the battle for holiday light supremacy plays out this year.
Alternatives
The big holiday light seller in 2016 was Star Shower Motion, which is a more simplistic moving holiday light display. You can find similar light displays online, such as this 12-piece LED projector, which sells for about $54.
Television Commercial
Your Glow Bright Festive Lights Reviews
What are your thoughts about Glow Bright Festive Lights? Drop a comment below and a star rating above to let us know what you think about it.