Glow Sharks are glow-in-the-dark water toys for kids.
Sponsored Links
About Glow Sharks
Glow Sharks take glow stick technology and mold it into the form of a shark, allowing the toys to be played with in the tub or pool.
What They Claim
Makes bath time fun
Easy to activate and use
Uses glow stick technology
Lights when snapped
Glows up to 8 hours
Can be used as an after-bath nightlight
Ideal for pools
Glow Sharks Cost
Glow Sharks cost $14.99 plus $5.99 P&H. You can add 6 shark bait fizzies for another $5.99 P&H. Thus, the total cost is $20.98 without the fizzies, or $26.97 with the bonus added.
Sponsored Links
Reviews
In short, Glow Sharks could be described as shark-shaped Glow Sticks. In fact the website actually states that it uses "Glow Stick Technology." Thus, if you have ever used a glow stick, you are familiar with the mechanism behind Glow Sharks.
You simply snap/break the shark to activate, and you'll get about 8 hours of glowing fun. As with any product using this technology, your time may vary greatly from 2 hours to more than 12. Eight hours is an average, but not a guarantee. Your child can use it in the tub or in the pool, although you won't want to use them during the day, or the glow effect will be minimal.
Unfortunately, Glow Sharks are only a one-time use. Once they stop glowing, their purpose has mostly expired, unless your child still wants to play with a non-glowing plastic shark.
With shipping factored in, each Glow Shark (it comes in packages of 4) costs about $5.25 ($20.98 / 4). Compare that to dollar-store glow sticks, and becomes quite an expensive glow stick.
The product website is glowsharks.com, which was registered in April 2015. The screen capture below shows the official website in February 2016.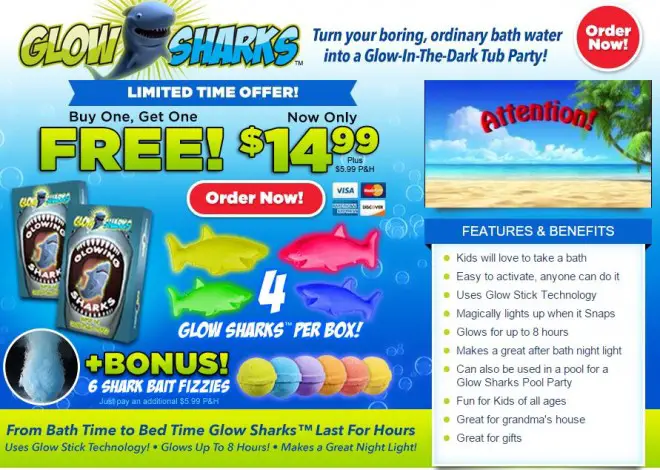 Cost aside, we can find no fault in Glow Sharks, and kids will certainly enjoy them while they last.
Your Glow Sharks Reviews
Have you used Glow Sharks? Give us your review by leaving a comment below and a star rating above.