Goal Diggers is a toy that allows children to dig colorful stones out of small hexagon-shaped structures. Does it work? Read our Goal Diggers review.
Sponsored Links
About Goal Diggers
Goal Diggers is a pretend archaeological kit for kids. It allows them to excavate stones of various textures and colors from the middle of small structures that are shaped like hexagons. The product website is buygoaldiggers.com, which was first registered in January 2017. The screen shot below shows how the product website looked in March 2017.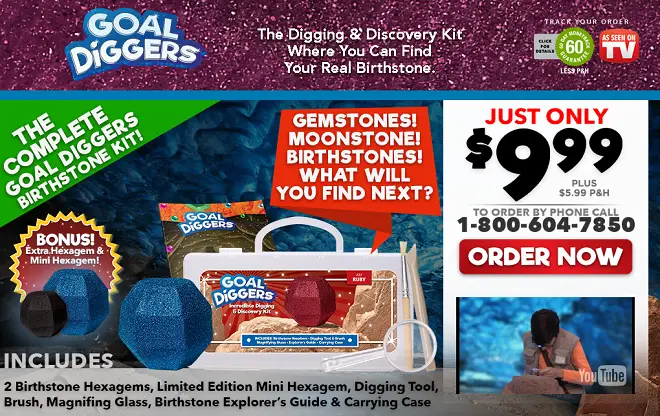 Sponsored Links
Claims & Features
12 different "hexagem" birthstones to collect
Discover & collect other unique stones
Real moonstone within the limited edition mini hexagem
Fun to share with friends
Cost
Each Goal Diggers kit costs $9.99 + $5.99 P&H for a total of $15.98. A kit comes with 2 hexagems, a mini hexagem, a digging tool, a brush, a magnifying glass, a birthstone explorer's guide, and a carrying case.
Goal Diggers Review
Goal Diggers is a sort of archaeology-meets-collectible toy. With this product, you "dig" at a hexagon toy stone until you find a hidden gem inside.
Each Goal Diggers kit comes with two hexagems. These are rock-like toys in which you dig at in order to find a hidden gem. Although you can order by birth month, there is only a 1 in 5 chance that you will actually get your own birth stone. If that doesn't occur, there are other gems you could find, such as Tigers Eye or Dalmation Jasper.
The ultimate "goal" behind Goal Diggers seems to be amassing a collection of stones, along with the excitement of not knowing which stone you'll find in each one. Considering there are over 20 gems in all, it could be quite expensive to build up such a collection, at $10 per order.
Overall, if your child is interested in collecting – especially interesting stones and gems – this could be a great fit. Keep in mind that this is a very new item, and I don't think it has arrived in stores as of this writing. That means for now you must pay shipping costs and wait for it to arrive.
Be careful on the order page, which seems a bit unclear how many you are ordering. If you only want a single order of 2 hexagems, you'll want to select "1" and not "2."
Alternatives
You can find several toy archaeology sets, such as this archaeology pyramid dig. There are also numerous surprise bath bombs for kids which contain a surprise such as rings or gems.
Television Commercial
Your Goal Diggers Reviews
What do you think of Goal Diggers? Tell us what you think by leaving a comment below and a star rating above.