Gotham Steel Pro Cut is a knife which can supposedly slice through even the toughest of foods with ease. Read our Gotham Steel Pro Cut review.
Sponsored Links
About Gotham Steel Pro Cut
Gotham Steel Pro Cut is a knife featuring "100% Japanese steel" which is said to be strong, sharp, and durable. The official product website is gothamknife.com, which was registered in September 2015. Below is a screen capture showing the official website as it appeared in August 2016.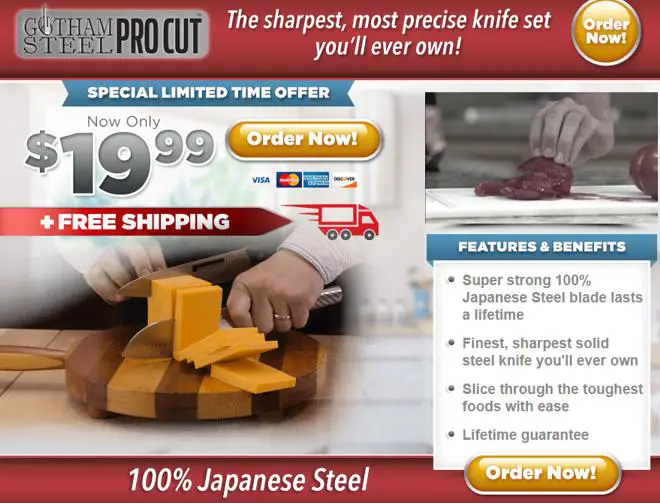 Claims & Features
100% Japanese Steel blade
Slice through tough food with ease
Lifetime guarantee
Cost
You can get Gotham Steel Pro Cut for $19.99 with free shipping. A Pro Cut Mini can be added to the order for a separate $10 fee.
As of this writing, this product isn't available in stores.
Gotham Steel Pro Cut Review
If the name Gotham Steel rings a bell, you have probably seen television commercials for the Gotham Steel Pan or even the Gotham Steel Double Grill. Now we have yet another item under the Gotham Brand, a knife called Gotham Steel Pro Cut.
Sponsored Links
Featuring "100% Japanese Stainless Steel," we are told that this knife will be the "finest, sharpest solid steel knife you'll ever own." It is said to offer unparalleled sharpness and durable construction, at only a cost of $20.
Gotham Steel Pro Cut offers a solid steel design and incorporates the use of a Granton-style edge, or indentations which minimize food adhesion. Although the website doesn't refer to it specifically as a Western-style Santoku, it could almost certainly be categorized as such.
The term "Japanese Stainless Steel" is a bit vague, although it evokes images of Samurai swords or even Ginsu Knives from the 1970s. We aren't really told where this steel was manufactured, although the steel itself is far less relevant than the design and construction of this knife.
We're confident that most users who try Gotham Steel Pro Cut will find that it is superior to standard kitchen knives. Can it make the cut against proven, well-rated chef's knives? That question remains to be answered, although we think that it is unlikely to de-throne some of the heavyweights in that category.
If your expectations are realistic, you will find yourself with a decent $20 Santoku knife. If you've used higher-end blades, you shouldn't expect this As Seen on TV knife to perform at that level.
We like the free shipping, although it could take up to a month to receive your order. Hopefully this item becomes available in stores in order to allow you to evaluate it in person before making your final purchase decision.
Alternatives
As Seen on TV knives date back decades to the Ginsu knife of the 1970s. In 2016 you may have seen the Sensi Slicer being advertised online as sharper than regular knives. See our review of that product here.
Regarding non-As Seen on TV knives, the options are practically limitless. For a similar design to Gotham Steel Pro Cut, you may want to look at the highly-rated Henckels 7-inch Santoku Knife, which sports a nearly 5 star rating and costs anywhere from $35 to $57.
If you are interested in moving up to a higher-end product, you might be interested in the $115 Zelite Infinity Santoku knife, with its stunning design and universal consumer accolades.
Your Gotham Steel Pro Cut Reviews
What do you think of Gotham Steel Pro Cut? Give us your opinion in the comments below and leave a star rating above.