Grab It is a light weight grabbing tool with a grip that can be locked. Does it work? Read our Grab It review.
Sponsored Links
About Grab It
Grab It is a ratcheting grabber tool that can lift up to 5 lbs. The rotating grabbing fingers can be locked in place which eliminates the need for constant squeezing. The product website is grabitoffer.com, which was first registered in June 2016. The screen shot below shows how the product website looked in March 2017.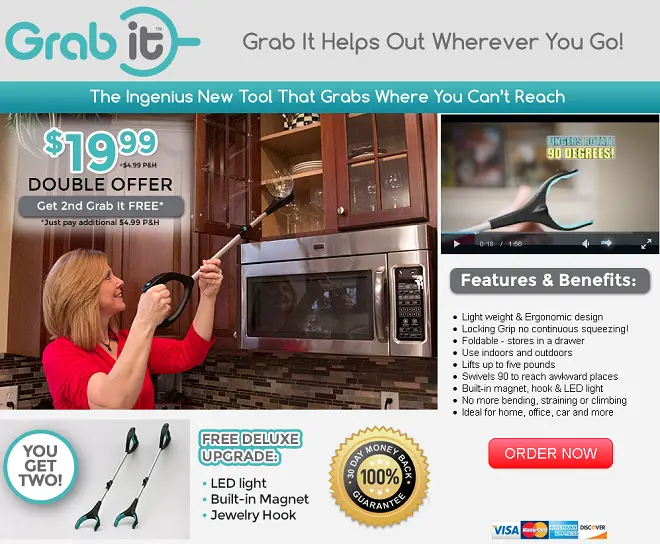 Claims & Features
Compact ergonomic design
No continuous squeezing with locking ratchet grip action
Folds up for storage
Lifts up to 5 pounds
Grabbing fingers rotate 90°

Jewelry hook, LED light, and magnet are built-in
Cost
There is an unavoidable double offer that charges you two P&H charges, thus Grab It costs $19.99 + $4.99 P&H + $4.99 P&H (for the second unit) for a total of $29.97. I found Grab It at Bed Bath & Beyond for $20 in August 2017.
Grab It Review
Grab It is advertised as a reaching tool, also sometimes called a "grabber," which allows you to pick up items without stretching or reaching. Although the appearance of Grab It at first may remind you of the numerous other products like this on the market (see below), the product does offer some unique attributes.
To use Grab It, you simply hold the device in your hand, unfold it (if it was folded), and use the handle to maneuver it to pick up an object. You then squeeze the handle so the rubber "fingers" pick up and hold the object. There are two ways to operate the handle: manual or ratchet. These can be selected by sliding a button. I found, however, that sliding the button is quite difficult and requires two hands.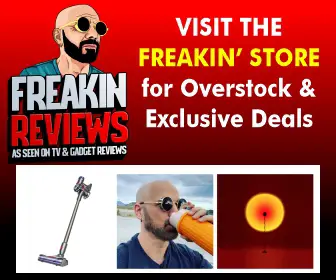 Grab It is about 33 inches when extended and folds down to about 20 inches.
There are several nice features offered with Grab It, such as rotating "fingers" which can be configured up to 90 degrees. For example, if you dropped something behind a couch or next to a fridge, you can rotate the device so that the grabbing end can be maneuvered into such a tight space easily.
Perhaps the most compelling feature of Grab It is the locking grip, which means you don't have to continuously squeeze the handle while holding an object. There are other features that are perhaps of lesser benefit, but nice small touches nonetheless, such as a built-in magnet, LED light, and small hook. Grab It can also be folded up for compact storage.
I found that lighter objects are easier, as are those with a straight side. Heavier objects and those with contoured sides seemed a bit more problematic. I was unable to screw in a light bulb using Grab It as shown in the commercial.
Keep in mind that grabbers such as this are not just for use with reaching up high, as they are also ideal for picking up objects from the floor if bending is a problem for you.
Overall, Grab It appears to be a solid entrant in this category, with some limitations. Even with all of its bells and whistles, I'm not sure it holds much of an advantage over the standard "grabber." The ratchet feature is nice in some instances, but I'm not sure it is compelling enough for everyone to find it useful.
Alternatives
There is no shortage of reach tools to be found in stores and online. A current Amazon Best Seller is this Nifty Nabber by Unger that sports a 4.5 rating among over 2,000 customers.
Video Review
Below you can see my full video review of Grab It.
Your Grab It Reviews
What do you think of Grab It? Tell us what you think by leaving a comment below and a star rating above.
Updated August 2017.