Granite Rock Pan is an aluminum frying pan covered with three layers of a durable nonstick coating. Does it really work? Here is my Graniterock Pan review.
Sponsored Links
Where to Purchase and About
Note: Granite Rock pan has since been re-branded as Granite Stone (or Granitestone). They are the same pans, with a slightly different name.
You can purchase the Granite Rock / Granitestone pans direct from the official website. You can also find it on Amazon, although this model is becoming scarcer there.
The Emson Granite Rock Pan is a nonstick pan made from aluminum with three coatings of a sturdy granite rock finish. The official product website is buygraniterock.com, which was registered in March 2018. The screenshot below shows how the product website looked in October 2018.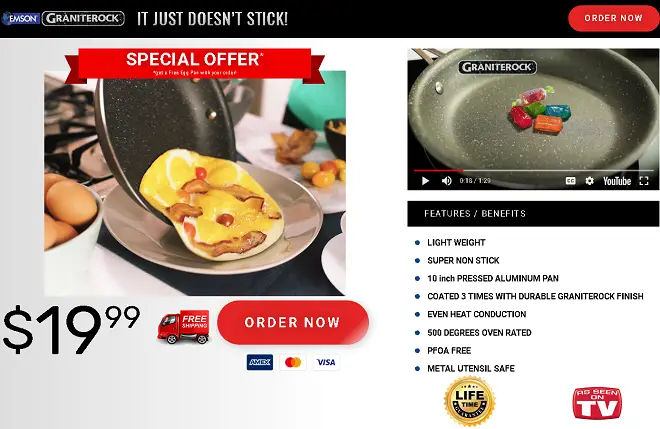 Claims & Features
Lightweight
No butter or oil required
Nonstick coating of granite rock
10 inch pan made from aluminum
Heats evenly
Withstands heat up to 500 degrees
Free of PFOA (

Perfluorooctanoic acid

)
Safe to use with metal utensils
Dishwasher safe
Graniterock Pan Review
As Seen on TV marketers seem to have an obsession with nonstick pans, as evidenced by a seemingly nonstop stream of them over the past few years. The current generation of As Seen on TV nonstick pans seemed to begin with the Orgreenic Pans around 2013, then the "copper" (bandwagon) pans a couple years ago. And now we have a new breed of pans including the Blue Diamond Pan and the Granite Rock Pan, which I am discussing here. Note that sometimes the name is stylized as Graniterock.
The advertising for the Granite Rock Pan includes many of the typical over-the-top demonstrations you've seen in similar ads for years, including an egg effortlessly swirling around in the pan, or a rock being hammered to pieces without leaving a scratch. The big selling point of the Granite Rock Pan is that "nothing sticks" and there is no oil or butter needed. I figured these would be easy claims to test when I picked up the square 12″ pan recently.
When using any of these new pans, I am typically careful to avoid high heat, especially if using any oil – which I didn't for my demonstrations here. But that is often a factor that leads many consumers to ruin this new generation of nonstick surfaces. Other things to keep in mind are to avoid abrasive cleaners and to let the pan slightly cool before putting it under water.
I wanted to duplicate the more reasonable demonstrations shown in the ads, while disregarding some of the outlandish durability demonstrations that could likely ruin the pan. So my first test was a simple egg, with no oil or butter. Although it didn't effortlessly swirl around, it only took minimal dislodging to move the egg freely in the pan. Another egg-based demonstration was a dish containing six eggs, a few strips of bacon, and shredded cheese. After heating it until the eggs were fully cooked, I was quite surprised that the entire thing slid out without any need to dislodge it at all.
Duplicating two other demonstrations, I tried burning cheese in one test, then a burning a strange concoction of chocolate, caramel, and cheese. In both cases, everything came out of the pan quite easily and only required minimal cleanup.
Sponsored Links
In another test, I burned marshmallows in the Granite Rock Pan, Red Copper Pan, and Blue Diamond Pan to see how the other pans compared. The marshmallows in the Graniterock fell out immediately, the Blue Diamond required minimal dislodging, while the Red Copper Pan required me to soak the pan to removed caked-on marshmallow.
In the end, I am a fan of the Granite Rock Pan. It has outperformed every other nonstick cookware I have reviewed over the past few years. Will it hold up over time? That is the question I have yet to answer. Be sure to see the video update below after one year.
After posting the review below, I have continued to use the Granite Rock Pan, and so far my results have been consistent with what you see in the video. I've found it to be the most impressive nonstick item I've reviewed to date. I do find it odd that other reviewers have claimed that the Granite Rock Pan failed immediately, as my experience with the pan has not been negative at all. I can't account for why there is a difference, whether it's user technique, a difference in production runs between pans, or some other unknown factor. I can only report my own findings, which are uniformly positive.
Be sure to watch my complete review of the Granite Rock Pan below.
Below you can see an update after one year and over a hundred uses. In this video, I put the pan through the same tests to see if there was any signs of degradation of the nonstick surface. In my opinion, it seems to be about as good as when I first bought it.
Alternatives
If you're looking for a highly-rated nonstick pan from a reputable manufacturer, a good place to start would be this Cuisinart 12″ pan with lid, that a solid rating among thousands of customers, and sells for about $27. If you are intent on buying the Granite Rock Pan, you can also pick up the the 12″ pan or even this 10-piece set on Amazon.
Television Commercial
Your Granite Rock Pan Reviews
Have you used Granite Rock Pan or something like it? Let me know what you think in the comments below!
Updated November 2022