Grip Clip is a set of modified nail clippers that includes several supplementary features. Do they really work? Here is my Grip Clip review.
Sponsored Links
About Grip Clip
Grip Clip is a deluxe nail trimmer that features a magnifying glass, light, and a nail clip catcher. The official product website is buygripclip.com, which was registered in October 2017. The screenshot below shows how the product website looked in October 2017.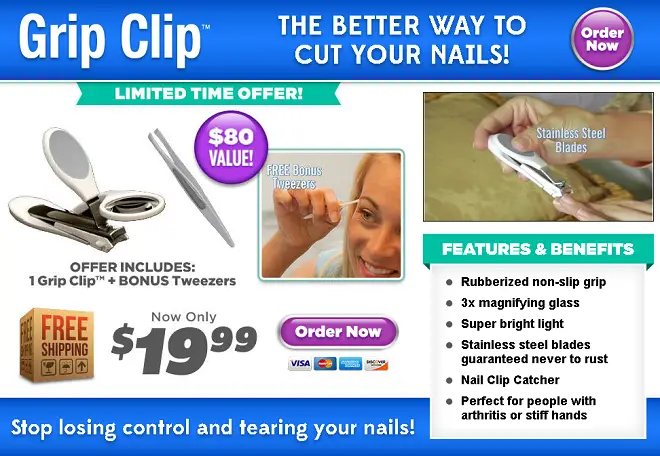 Claims & Features
Extra wide grip made from nonslip rubber
Includes a magnifying glass (3x power)
Built-in light
Blades are stainless steel
Clip catcher for nails
Ideal for those with stiff hands or arthritis
Cost
Grip Clip costs $19.99 + $1 web service fee for a total of $20.99. Shipping is free. It comes with a bonus set of tweezers.  At the time of this writing, Grip Clip is not available in stores.
Sponsored Links
Grip Clip Review
When I first saw the commercial for Grip Clip, I knew I had seen this item before. After some digging, I was able to find the product I had remembered. That item was called Sure Clip, which was marketed (if I recall correctly) around 2009 through 2012. In fact, I recall seeing it in stores as recently as a couple of years ago.
The advertised features of Grip Clip (and Sure Clip) are a lighted magnifying glass, large rubberized grip, nail catcher, and extra wide opening.
I am something of a nail clipper aficionado, perhaps because my thick nails require a very sharp and wide blade, so those who share my frustration with run of the mill clippers will no doubt want to give Grip Clip a close look. Fortunately, Grip Clip should fit the bill for those seeking such a device, especially for cutting fingernails.
The magnifying glass and light work great when clipping fingernails, but some users may find that they don't facilitate clipping toenails. In fact, you may even find the magnifying glass in the way as you attempt to clip toenails. I'm sure some will like the nail catcher, although I've never had a problem with clippings like those shown in the commercial.
In the end, I believe most consumers will find this to be an excellent tool for clipping fingernails, but it will receive mixed results for toenails. If you aren't interested in the magnifying glass and light, you may be able to remove them and use the device as a more effective toenail clipper. A cost of $21 for nail clippers seems a bit high for me, however, as you can usually find a nice pair for under $10.
I can't tell if Grip Clip has improved anything over Sure Clip, or if it is just a re-branding of that older item. To me, there is no discernible difference between the two. Only time will tell if this incarnation generates enough interest for another round of marketing, or if it's simply a test marketed item that will disappear after a brief advertising campaign.
You may want to peruse the 100+ consumer reviews for Sure Clip, which currently holds a 3.5 star rating on Amazon.
Alternatives
This $3 baby nail clipper is highly reminiscent of Grip Clip and is currently listed as a #1 Best Seller on Amazon. If you just want a solid set of nail clippers, this $8 set of fingernail/toenail clippers has a nearly perfect rating at 4.9 stars.
Your Grip Clip Reviews
Have you used Grip Clip or something like it? Leave a comment below and a star rating above to let us know your thoughts.