Handy Heater is a portable personal space heater that has been advertised on television since about 2016. Read my full Handy Heater review.
Sponsored Links
About Handy Heater
Handy Heater is a plug-in space heater that supposedly heats up a room quickly which allows you to save on your heating bill. The product website was originaly advertised as handyheater.com, which was registered in December 2015. The screen capture below shows how that website looked in March 2016. As of this 2020 update, there is no dedicated URL and the closest you can find to an official website is the product page at Ontel.
2021 Update: See below for info on the new model of Handy Heater called Handy Heater Pure Warmth.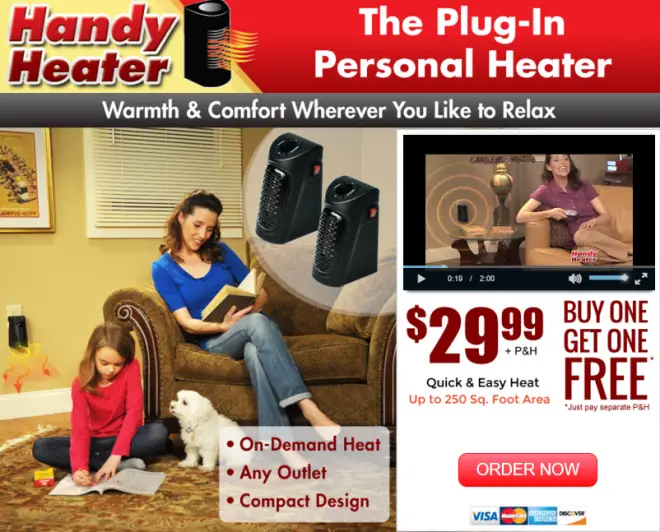 What They Claim
Works with any outlet
Compact and great for travel
Quick and easy heat
Digitally-controlled temperature settings
Automatic on/off timer
350 Watt Energy
Heats up to 250 sq. ft.
Handy Heater Cost
The original As Seen on TV offer was $29.99 + $8.99 P&H, with an additional unit for an extra $8.99 P&H. Handy Heater is now available in stores for about $12.
Handy Heater Review
Handy Heater is an electric space heater which can heat a room up to 250 square feet. Featuring a digital timer and temperature control, we are told that plugging Handy Heater into any outlet will warm any room and save money on a heating bill.
Space heaters are not a new concept, and you can find a wide variety of these at department stores or other retailers with a wide variety of sizes and price options. In general, electric space heaters do work, with some caveats.
Handy Heater is quite small and offers a moderate 350 watts of power. Although the product can supposedly warm a 250 square foot room (the size of a standard bedroom), it seems more suitably sized for even smaller spaces such as a bathroom. You can find other space heaters with far more power for about the same price, such as this 1500 watt $22 ceramic heater.
The assertion that Handy Heater could lower your electric bill may also depend on how and where you use it. You may be interested in this in-depth article entitled "Space heaters can dramatically increase your electric bill."
Handy Heater was advertised in limited capacity in early 2016 before a full advertising campaign began later that year. It was added to Amazon in August 2016, and has a decent 4.0 star rating as of this November 2021 update.
Sponsored Links
For those interested in safety specs, Handy Heater is ETL listed. The bottom of the box also states that it "conforms to UL STD. 1278."
Handy Heater does emit warm air which feels and smells like what you'd expect with a standard hair dryer. When you plug it in and turn it on, it defaults to 85 degrees with the speed setting on high. The temperature can be adjusted from 60 to 90 degrees, and the speed setting on high or low. There is a timer which allows you to set it to run for 1 to 12 hours.
I found that Handy Heater did an OK job of warming the immediate area right in front of it. I found that it kept shutting off when the room temperature was over about 65 degrees, even when the nearby temperature had not reached the temperature set on the unit (I used a thermometer to verify this).
What seemed worrisome at first is that the heating element appeared to glow red after the fan turned off. I thought that may have just been my unit, but others online have relayed similar experiences. After further investigation, I found that this is merely a red LED light within the unit, but this is not mentioned in the manual. The makers may want to address this concern, as others have also expressed the same reaction as mine regarding this issue.
Another strange function is that the high/low buttons don't always seem to work. It's as if the unit wants to reach a certain temperature and will blast high heat until it gets there. While I preferred the quieter low mode, it would often switch back to high mode on its own.
Overall, I would probably not recommend Handy Heater over other space heaters, such as this similar model that is highly rated. If you're set on picking on up, I highly recommend buying it from a local retailer so you can avoid shipping costs and delays.
See below for info on the 2021 model, Handy Heater Pure Warmth.
Video Reviews
You can see my hands-on review of Handy Heater in the video below, along with additional info with my two-month update.
Below is my 2021 review of the new model called Handy Heater Pure Warmth, which includes some comparison tests vs the original model.
Your Handy Heater Reviews
Have you used Handy Heater? Give us your review by leaving a comment below and a star rating above.
Updated November 2021