HD Aviators Review: Do They Work?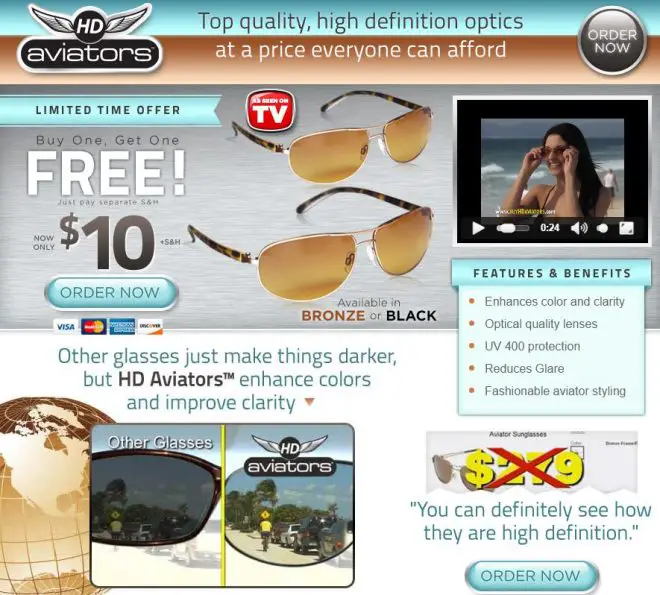 HD Aviators are amber tinted sunglasses which are said to improve clarity and enhance colors. Read our HD Aviators review.
Sponsored Links
About HD Aviators
HD Aviators are As Seen on TV sunglasses which have advertised for about six years.
The product website is buyhdaviators.com, which was registered in August 2010. The screenshot below shows the official website in June 2016.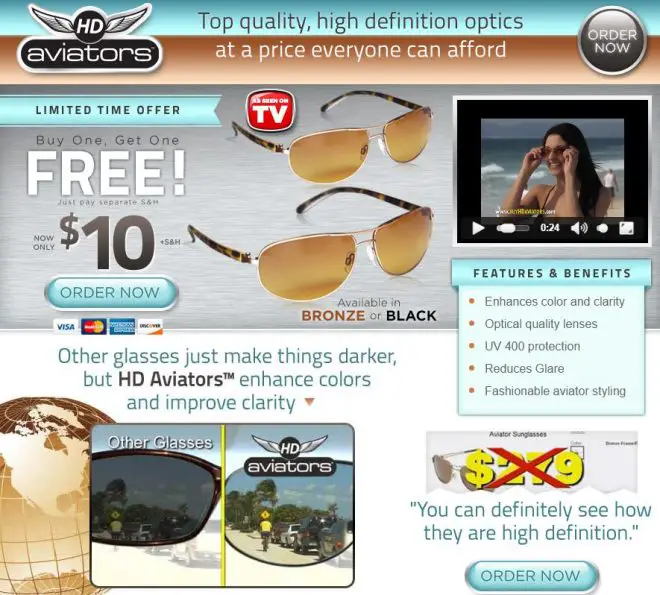 Claims and Features
Improved color and clarity
Optical quality lenses
UV 400
Reduces glare
Aviator style
Available in black or bronze
Cost
If you opt for the current television offer, you can get HD Aviators for $10 + $5.99 shipping. There is a mandatory double offer, meaning you'll also need to pay another $5.99 for the second "free" set. This brings your total to $21.98.
There is a 30-day money back guarantee, which does not include the $11.98 in shipping costs.
Sponsored Links
HD Aviators Review
HD Aviators are amber-tinted sunglasses which have been seen on television ads for over 5 years under the name "HD Vision Aviators." The product appears to have been slightly rebranded for its 2016 television campaign, dropping the word "Vision" from the product name.
The "HD Vision" brand has produced several similar products over the years, such as HD Vision Wraparounds and HD Vision Visor. While the HD Aviators have returned, a close inspection of older models looks as though the design may have been slightly updated.
The good news is that HD Aviators generally work pretty well. They have a pleasant amber tint which tends to improve clarity and does offer a better color spectrum over dark tinted glasses. Another "pro" of the product is that earlier models have been uniformly positive, giving it about a 4-star rating.
Although not "cons" for the product, there are a number of things to consider before whipping out your wallet to take advantage of the TV offer. First, you can still find older models in stores for $10 or less. You can also find earlier models online, such as this black pair for $7.
Also, while HD Aviators are amber-tinted, they are not polarized, which means they don't offer the best glare reduction available.
For sake of comparison, you may want to take a look at the Highlander Polarized Sunglasses by Flying Fisherman which are highly rated, offer the same features as HD Aviators, and have polarized lenses.
While the amber tinting may not elicit the "wow!" responses shown in the commercial below, these glasses are actually pretty good for an As Seen on TV product. You may want to look for them locally or online to sidestep the shipping costs of the current "double offer." There are also numerous competing products which perform equally as well.
Your HD Aviators Reviews
Have you used HD Aviators? Let us know what you think by leaving a comment below and a star rating above.
Tags: