HD Vision Flip Up Wraparounds are sunglasses which wrap around your existing glasses and also flip up for convenience. Read our HD Flip Up Wraparounds review.
Sponsored Links
About HD Vision Flip Up Wraparounds
HD Vision Flip Up Wraparounds are lightweight sunglasses which fit over your existing prescription lenses. They also allow you to see with enhanced clarity during the day or night.
The official product website is hdflipups.com, which was registered in January 2016. The screen capture below shows the official website as it appeared at the time of this writing in May 2016.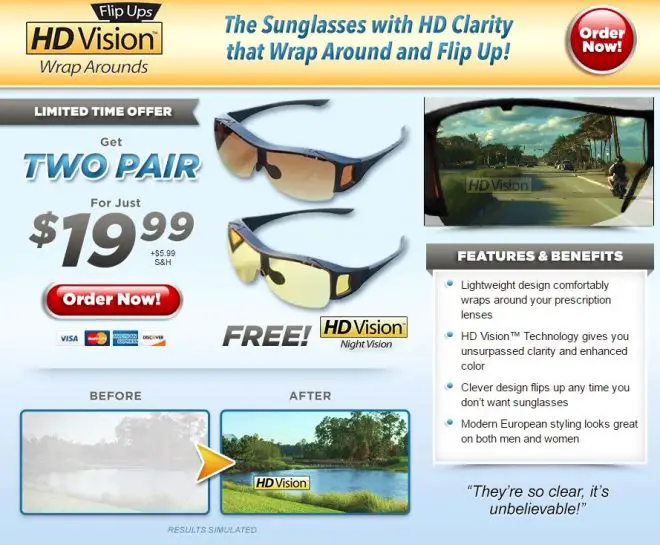 Claims and Features
Wraps around any type of glasses
Improved clarity and color
Flips up for convenience when you don't need sunglasses
Stylish for men or women
Cost
You can get two pair (one for day, one for night) for $19.99 plus $5.99 shipping. There is a Deluxe model which includes a carrying case, cloth, and extended warranty for $4.99 extra per pair (this will add another $9.98).
There is a 30-day money back guarantee, less shipping.
HD Vision Flip Up Wraparounds Review
A few years ago television airwaves were blanketed with ads for the original HD Vision glasses, which were said to help you see better at night. That product had moderately positive reviews and stayed on the market much longer than the typical As Seen on TV product. Prior to that, there were HD Vision wraparounds, which wrapped around existing sunglasses. Now in 2016 we are seeing a follow-up in the product line, the HD Vision Flip Up Wraparounds, which combine elements of the two earlier models into one, and adds a new feature.
Sponsored Links
As with the older HD Vision products, you'll still get the amber-tinted sunglasses, which will help with glare to some extent. You'll also have the ability to use these with existing glasses. And as a new feature, you can flip up the lenses when you don't need them.
Perhaps the first point to make here is that these essentially function as amber-tinted sunglasses. A comparison of this product with amber sunglasses will yield indistinguishable results. That said, amber glasses such as these do help reduce glare somewhat by reducing blue and white light. The manufacturer does not state whether or not it is polarized, which we would assume would be a major selling point it if were. Polarization is the industry standard in glare reduction, and is superior to just amber-tinting.
Because they are designed to fit over existing glasses, the design is larger than regular sunglasses. If you don't already wear glasses, this over-sized look may not feel stylish, if that is of a concern for you. Neither will the flip-up design, which not everyone would prefer not to display.
Included with the current offer are the Night Vision version of the Flip Up Wraparounds. These are said to reduce glare at night, and bring back the original "Night Vision" feature. These also wrap around existing glasses and flip up, but have less tinting and are for night time use. Wearing slightly tinted glasses at night could reduce visibility, so you may want to test these out before jumping on the freeway at midnight while wearing them.
If you wear contacts, or don't wear glasses at all, you may want to look into a good pair of polarized amber-tinted glasses for the best glare-reduction available. If you do wear glasses, and don't have a pair of prescription sunglasses, this could be a product worth considering.
If the flip-up feature is not important to you, older HD Vision products and their competitors (such as Night View NV) may still be available locally for about $10.
Your HD Flip Up Wraparounds Reviews
If you've used HD Flip Up Wraparounds please give us your opinion by leaving a comment below and a star rating above.