HD Polaris is a pair of polarized sunglasses which reduces glare and improves vision during the daytime. Read our HD Polaris review.
Sponsored Links
About HD Polaris
HD Polaris is a pair of sunglasses are said to enhance vision for a clearer view during daylight hours. The official product website is hdpolaris.com, which was registered in May 2016. You can see a screenshot below of the official website taken in September 2016.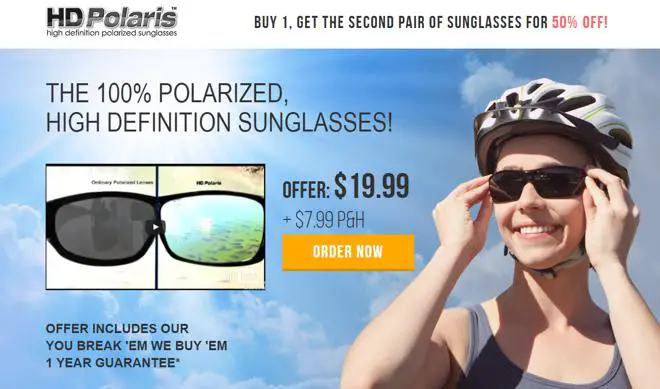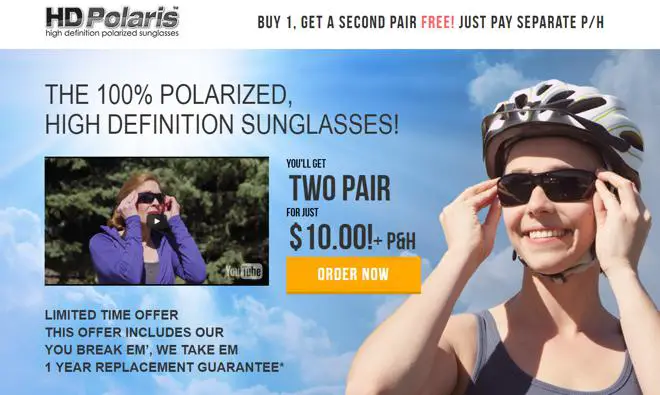 Claims & Features
100% full UV protection
Filters and deflects harsh glare
Provides improved color and clarity
Wrap-around design protects skin around the eyes
Built-in magnets allow glasses to be security clipped
1 year unconditional warranty
Cost
In late 2016, the online offer gave you one pair for $19.99 plus a second pair for 50% off, for a total of $29.98, plus $7.99.
In 2017, the offer is $10 with a mandatory buy one get one offer.  Each pair includes 4.99 P&H, which equals $9.98 in P&H –  for a grand total of $19.98.
Sponsored Links
HD Polaris Review
Sunglasses have been a mainstay of television advertising for decades. As Seen on TV aficionados may recall the campy BluBlocker commercials from years ago. In more recent years we've seen such offerings as HD Vision Flip Up Wraparounds, Night View NV, HD Aviators, and PermaShades 3000. Each of these As Seen on TV sunglasses have offered a slightly unique set of features, focusing on such benefits as durability, night vision, or glare reduction.
HD Polaris is said to reduce glare while offering improved clarity and color perception. The secret is in its polarized lenses.
Some As Seen on TV glasses in recent years have advertised glare reduction by means of amber tinted lenses. While that may help give the perception of reduced glare, polarization a better solution. It is the industry standard, and a pillar of the HD Polaris brand.
In short, HD Polaris should offer ample glare reduction and improved vision due to its polarized lenses. It will likely be superior to regular sunglasses and those with amber tinted non-polarized lenses. The addition of a wrap design is nice, especially considering it is included without sacrificing the product's stylish look.
A one-year "you break 'em we buy 'em" guarantee comes with HD Polaris sunglasses, although you'll probably still have to pay to ship your glasses to them. It is a better guarantee than most As Seen on TV items, which are typically only backed by a 30-day warranty.
Although we're not fond of the mandatory double offer, we think HD Polaris should fit the bill if you're looking for two pairs of anti-glare sunglasses. At about $10 per unit, it is on par price-wise with other sunglasses that offer similar features.
Alternatives
There is certainly no shortage of polarized sunglasses to be found, with an dizzying array of prices and designs. You can easily find competitors above or below HD Polaris in price, although sunglasses under $10 tend to be cheap in construction as well as price. For its sporty design and features, HD Polaris' price per unit is about on par with others in its class.
You may want to take a look at something like the Gamma Ray Stealth polarized wrap sunglasses for a comparable item with high consumer ratings.
Television Commercial
Your HD Polaris Reviews
Have you used HD Polaris? Let us know what you think by leaving a comment below and a star rating above.
Updated March 2017 to reflect updated pricing.