HD Vision Special Ops are sunglasses which help enhance color and clarity while reducing glare. Do they really work? Here is our HD Vision Special Ops review.
Sponsored Links:
About HD Vision Special Ops
HD Vision Special Ops is advertised as a pair of "tactical" sunglasses that provide enhanced clarity while offering scratch-resistant lenses. The official website is hdspecialops.com, with a registration date of June 2017. The screen capture below was taken of the product website in September 2017.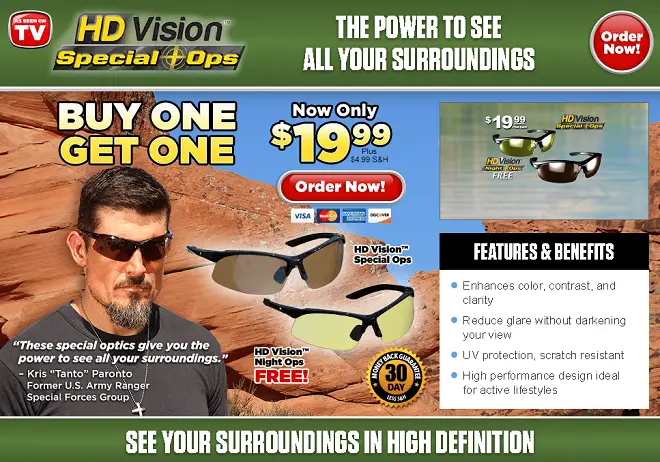 Claims & Features
Heightens colors, contrast, and clearness
Decreases glare without dimming perspective
Blocks UV rays
Resists scratching
Optimal for a variety of activities
Cost
There is a mandatory double offer when ordering HD Vision Special Ops. It comes with the HD Vision Night Ops. The set costs $19.99 + $4.99 P&H for a total of $24.98. At the time of this writing, HD Vision Special Ops is not available in stores.
HD Vision Special Ops Review
It seems as though the As Seen on TV 'tactical sunglasses' bandwagon is now in full force with HD Vision Special Ops recently jumping on board. This product joins Tac Glasses, Red Shift XT Special Ops, and Sniper Vision in this quickly growing niche of As Seen on TV tactical sunglasses. Not only do these four products share similar designs, but their advertising seems interchangeable.
If the name "HD Vision" sounds familiar, there have been several products advertised over the years under this brand name, such as HD Vision Glasses, HD Vision Visor, HD Vision Flip Up Wraparounds, and Ultra HD Clear Vision.
Sponsored Links:
So what makes HD Vision Special Ops stand out above ordinary polarized sunglasses? That's actually a tough one to answer, but I'm not sure there is much of a difference. I'm not even sure there's any discernible difference between the lenses in this product and the original HD Vision Glasses, other than in the shape. There was also been a "night" version of the original HD Glasses, so what is being advertised right now feels like a re-packaged HD Vision Glasses with new frames in order to jump on the "tactical" bandwagon. That is purely speculation on my part.
I have no doubt that a pair of polarized lenses will enhance clarity and reduce glare, so if you pick these up, I'm sure they will work fine. I'd also expect the same results with the thousands of other polarized sunglasses on the market. The bendable frames are a nice touch, although not necessarily compelling enough to make these stand above the fray.
If it were me, I'd visit a sunglasses display at a local store and try on all of the polarized lenses to see which one looks best on my face. Because you are ordering HD Vision Special Ops sight unseen, you don't have the convenience of trying them on first. I don't think everyone will like the angled "insect" looking lenses. Some customers will, but it's purely a matter of taste.
If there were free shipping, I might consider ordering these because $20 is not a bad deal for two pairs of sunglasses. When you add shipping costs and delays, however, it seems to be more hype than it's worth.
Alternatives
There are a numerous  "tactical" sunglasses sold in stores and online. This pair of COSVER polarized sunglasses is pretty close in design and function to Sniper Vision, and also costs about $20 with Amazon Prime shipping. This model by Torege has even higher ratings with a price of about $22, and offers five interchangeable lenses for various situations. For the night vision glasses, you can still find the HD Night Vision Wraparounds on Amazon.
Related Reviews
Below are my full reviews of Tac Glasses and Red Shift XT, both of which are very similar to HD Vision Special Ops.
Television Commercial
Your HD Vision Special Ops Reviews
What are your thoughts about HD Vision Special Ops? Drop a comment below and a star rating above to let us know what you think about it.