Hercules Hose is a lightweight steel covered garden hose that will not tangle or kink. Does it work? Read my Hercules Hose review.
Sponsored Links
About Hercules Hose
Hercules Hose is a sturdy and flexible garden hose that has an outer casing made of interlocking steel armor. The product website is buyherculeshose.com, which was first registered in January 2017. The screen shot below shows how the product website looked in April 2017.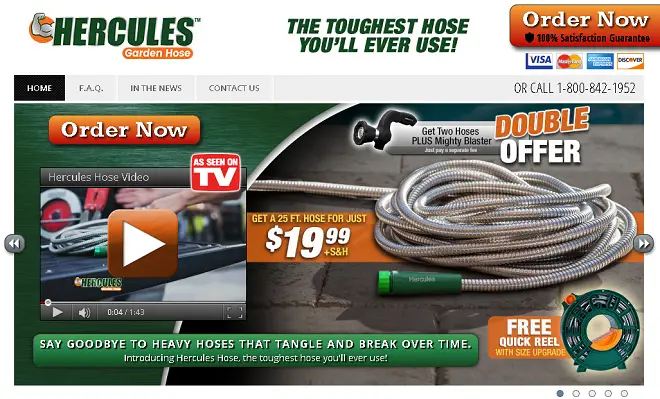 Claims & Features
Garden hose covered with interlocking steel casing
Does not kink or tangle
Portable & compact
Durable construction
Withstands extreme weather conditions
Cost
Regular Offer
25 ft. hose costs $19.99 + $7.99 shipping for a total of $27.98
50 ft. hose costs $39.99 + $9.99 shipping for a total of $49.98
75 ft. hose costs $59.99 + $9.99 shipping for a total of $69.98
100 ft. hose costs $79.99 + $9.99 shipping for a total of $89.98
Special Offer – 2nd Hercules Hose & Master Blaster
25 ft. – $19.99 + $7.99 shipping + $9.99 fee = $37.97
50 ft. – $39.99 + $9.99 shipping + $29.99 = $79.97
75 ft. – $59.99 + $9.99 shipping + $39.99 = $109.97
100 ft. – $79.99 + $9.99 shipping + $49.99 = $139.97
Hercules Hose Review
Hercules Hose is advertised as "a hose just as tough as you are." This steel hose is said to be free of kinks and tangles, while able to withstand extreme conditions.
If that seems familiar, you aren't mistaken. This is the fifth such hose to appear in online advertising in 2017. Prior to Hercules Hose, I've seen Bionic Steel Hose, Flex Steel Hose, Forever Steel Hose, and Metal Garden Hose. Read my blog post on the current breed of 2017 "As Seen on TV" hoses.
It is a common occurrence to see very similar items marketed by competing As Seen on TV companies around the same time. That's why you see such items as Turbo Scrub, Scrubtastic, and Hurricane Spin Scrubber all appear at the same time. Or Copper Crisper and Gotham Steel Crisper Tray.
Now we have a slew of metal garden hoses, all of which seem to be similar in design and in price.
I purchased Hercules Hose at a local Bed Bath and Beyond for $40, but used a 20% coupon, so I was able to get it for $32. I only saw the 50-foot hose available.
Sponsored Links
My first tests with Hercules Hose found it to be durable as advertised. After several durability tests, I'm quite pleased with its performance. In addition to being durable, I've found it to be lightweight, weighing in at about 5 pounds for my 50-foot hose.
I was a bit surprised that the hose sold in stores does not come with a nozzle, although the online offer does include a nozzle. It does, however, include a handy reel that lets you keep it stored neatly away.
Regarding the claim that it stays cool in the sun, I think that is somewhat accurate. It doesn't really stay cool, but it doesn't get too hot. I'll keep testing this as it heats up in Las Vegas, and update this page if anything changes.
Keep in mind that while you can't really kink a metal garden hose, you can easily find it in knots. It's been a few months since I first brought home a steel hose and so far it has performed excellently.
I still need to find out how well these hoses hold up through a blazing hot summer here in Las Vegas. Such a harsh environment can destroy a rubber garden hose in as little as a few months, so I will be curious to see how well a metal hose can hold up. So far, with temperatures only in the 80's, it seems to be holding up pretty well.
It may be worth noting that you are not supposed to drink through these hoses, but the instructions don't state why that is the case.
Be sure to check out my full Hercules Hose review below. Later this summer I'll do a comparison with Hercules Hose and Metal Garden Hose, and I'll ramp up some of the durability tests as well.
2019 Update: My Hercules Hose finally burst in June 2019. It stayed out on my back patio, along with the Metal Garden Hose, for over two years. It was exposed to high heat in the summer, below freezing temperatures in the winter, along with being walked on by humans and dogs. It seemed to burst in a random spot when I went to use it. I had used it the previous day with no problem. The Metal Garden Hose continues to function properly.
Alternatives
Of all the metal hoses on the market, Metal Garden Hose is the most visible. You can find it in stores and online, and reviews are mostly positive. You may be interested to see my hands-on review of the Metal Garden Hose, which is nearly identical to Hercules Hose.
Your Hercules Hose Reviews
What do you think of Hercules Hose? Tell us what you think by leaving a comment below and a star rating above.