HexBug Nano V2 is the latest in a line of "gravity defying" robotic creatures.
Sponsored Links
About HexBug Nano V2
HexBug Nano V2 is essentially a tiny robotic critter which crawls around, climbs, and performs other tricks.
The product websites are hexbug.com and nanov2.com, which were registered in December 2006 and February 2013 respectively. The screen capture below shows the official website in August 2015.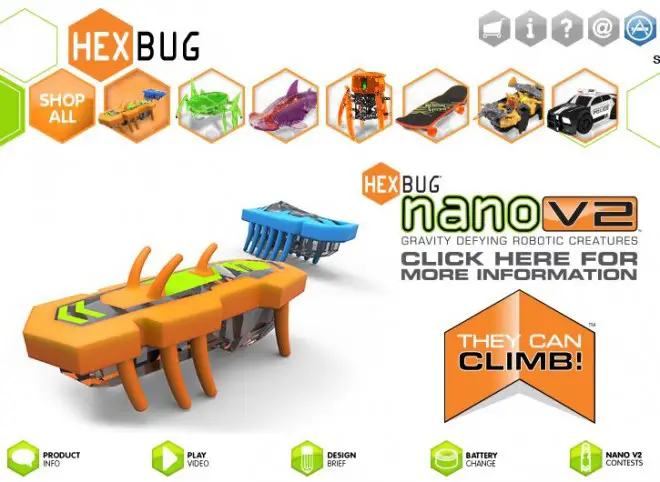 Sponsored Links
What They Claim
Can climb horizontal or vertical
Can climb around corners and through loops
Uses vibration to scurry through tubes
Can crawl on feet or back
Will flip onto feet
HexBug Nano V2 Cost
A single HexBug Nano V2 will cost you about $8. There are additional loops and towers which cost more. An "Infinity Loop" for example, costs $20 while the Watch Tower is $40.
You can find HexBug Nano V2 in stores such as Target and Toys R Us, or at the official website.
Reviews
HexBug (sometimes stylized in all caps as HEXBUG) looks like a cross between an old school computer chip and a cockroach, and performs much like the latter. As simple as the design sounds, HexBug is a fascinating toy that seems to hold interest with repeated use. Many hardcore HexBug fans have impressive collections, and seeing a group of these bugs is a real treat.
Currently the HexBug Nano V2 Launch Pad is advertised as a way to make these creatures "fly" by way of three different tube receptacles that catch a bug projected by a crude hand-pumped lever.
Picking up your first HexBug Nano V2 is an inexpensive affair, but be warned that these critters can be quite addictive. It's a great way to bring old-school fun (aka no computers or smart phones) back into the home.
Television Commercial
Your HexBug Nano V2 Reviews
Let us know what you think of HexBug Nano V2 or the advertised Launch Pad and other accessories by leaving a comment below and a star rating above.