Hourglass Cami is a waist training camisole that compresses the body into a hourglass figure. Does it work? Read our Hourglass Cami review.
Sponsored Links
About Hourglass Cami
Hourglass Cami is a comfortable and stylish camisole that combines a waist trainer and a wireless bra. The product website is hourglasscami.com, which was first registered in February 2017. The screen shot below shows how the product website looked in April 2017.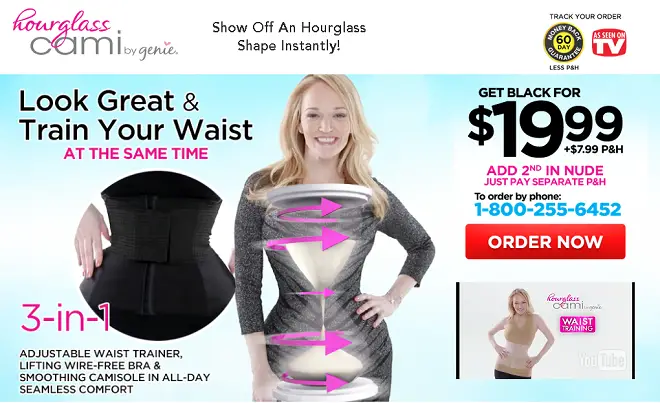 Claims & Features
Lifts & supports
Smooths out spillage, belly rolls, & back fat
Adjustable compression level
Wireless (won't dig or poke)
Hook & wrap are easy to use
Can be worn under or over clothing
Available in multiple sizes (S to 4X)
Cost
One black Hourglass Cami costs $19.99 + $7.99 P&H for a total of $27.98. There is an optional double offer where a nude Hourglass Cami is added for an additional P&H charge of $7.99. This double offer will raise the total to $35.97.
I haven't seen Hourglass Cami in stores as of this writing.
Sponsored Links
Hourglass Cami Review
This week has felt a bit like early 2015 to me as I've run across not one, but two waist trainers that have recently begun advertising. In early 2015 several waist trainers hit the airwaves after a few high profile celebrities jumped on the bandwagon. That bandwagon slowed significantly, however, after some healthcare professionals expressed concerns over long-term use of these products.
But here in 2017 we have Hourglass Cami, which combines three of Genie's popular products into one: a lifting wireless bra, smoothing camisole, and waist trainer.
Genie Bra has been around for years and has achieved a relatively solid reputation. Genie's CamiShaper is a camisole that was also heavily advertised on television. Besides some consumer complaints about the sizing, it also held mostly positive ratings. Now those two are combined with a waist trainer to provide a 3-in-1 product that smooths, slims, and lifts.
If you've used Genie products in the past and found them to suit your needs, this could be a logical upgrade. Obviously you wouldn't consider this if you don't need the waist trainer or would prefer to use your own bra. Overall,  however, it is a product that seems well conceived and is a welcomed addition to the Genie product line.
It has been my experience that hybrid products that try to solve too many problems often don't compare to single purpose items. Hourglass Cami, however, could buck that trend and actually deliver something that can replace three different garments.
Hourglass Cami is still a new item, and little information is available about it. From what I know of the Genie brand, I predict that this item will probably be marketed heavily for a few months, at least until consumer feedback begins to appear online. If reviews are strong, this could be a longtime contender.
Alternatives
There are a few other product that tout themselves as Cami Waist Cinchers with included bras. An item like this Joan Vass product could be a viable competitor, although more expensive.
Television Commercial
Your Hourglass Cami Reviews
What do you think of Hourglass Cami? Tell us what you think by leaving a comment below and a star rating above.