HydraLight is advertised as a water-powered flashlight that can be extended into a lantern. Does it work? Read my HydraLight review.
Sponsored Links
Where to Buy
As of this January 2022 update, Hydralight appears to be no longer sold. You can still see the Amazon listing here, but it has been "unavailable" for months.
HydraLight was originally $39.95 with free shipping, although that price later changed to $29.95 + $6.95 shipping for a total of $36.90. You may still see HydraLight in stores, but its Amazon listing has been out of stock for quite some time.
About HydraLight
HydraLight is a flashlight that is powered by a water-activated fuel cell. The end can also be protracted to transform it into a lantern. The product website is hydralight.com, which was first registered back in September 2004 (although, according to the Internet Archive, that domain was essentially blank for over a decade). The screenshot below shows how the product website looked in February 2017.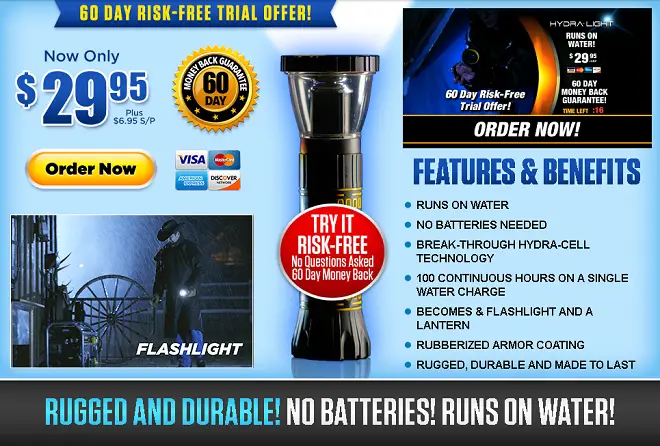 Claims & Features
Flashlight "runs on water"
No batteries
Hydra-cell technology
Works as flashlight and lantern
Rubberized armor coating
100 continuous hours on a single charge
HydraLight Review
The advertising for HydraLight tells us that we are witnessing a "breakthrough in modern technology" that allows us to use a flashlight that runs on water. This breakthrough is referred to as "Hydra Cell" technology, a term for which a trademark was applied in 2016, and refers to a fuel cell activated by water.
I purchased a HydraLight online in December 2017 for $30.
HydraLight briefly advertised in December 2016, before posting a disclaimer on the site that it would be back in 2017. Indeed, the new year arrived, and HydraLight returned – with a price tag $10 less than originally advertised.
We aren't told the specifics of Hydra Cell technology, but I do know that the ability to power devices with a water-activated battery is certainly not a breakthrough. The idea of a galvanic cell, for example, dates back at least hundreds of years. You can find lights powered by salt water and aluminum foil at middle school science fairs every year. Despite claims that HydraLight "runs on water," the instructions note that it doesn't actually derive any power from water.
Technical details aside, I do give the makers of HydraLight credit for taking a simple idea that has been relegated to science fair projects and adapting it for consumer use. This item seems to be riding the coattails of the "tactical flashlight" marketing frenzy that took place in 2016, where numerous flashlights in this category heavily advertised their durable, bright flashlights. Now with HydraLight, we have a durable flashlight that doesn't even require batteries, aside from the included fuel cell that is activated by water.
To use HydraLight, you simply immerse the fuel cell in water in order to power the device. The makers tell us that one dip in H2O will generate about 100 hours of continuous use. When it runs out of power, you simply dip it in water again and you're off for another 100 hours. I let mine sit for 36 straight hours, and it did stay lit the entire time. In the photo below, you can see how much it dimmed in 24 hours.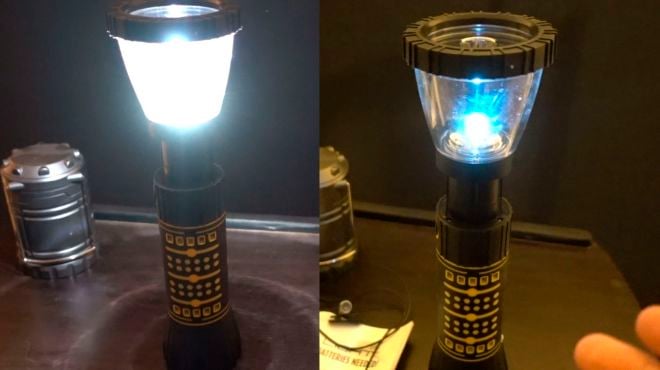 When I turned the HydraLight off after 36 hours and went back to it later, it didn't turn on, which means I needed to re-activate the fuel cell.
Sponsored Links
A nice feature of HydraLight is that it can be used as a flashlight or a lantern. To engage the lantern feature, you simply extend the barrel and place the light on a flat surface or hold it in your hand. I compared the brightness of the HydraLight in lantern mode with the popular As Seen on TV item called Atomic Beam Lantern, and the latter was clearly brighter.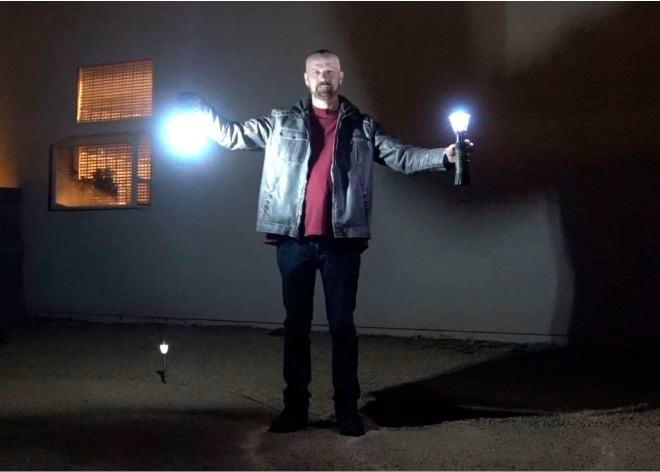 There is no indication how many lumens HydraLight can produce, so I am not sure just how bright this light is, but it isn't very bright. When I compared it to several other flashlights, including an aging 30-year old flashlight, a dollar store flashlight, and a 650-lumen flashlight, it was unimpressive.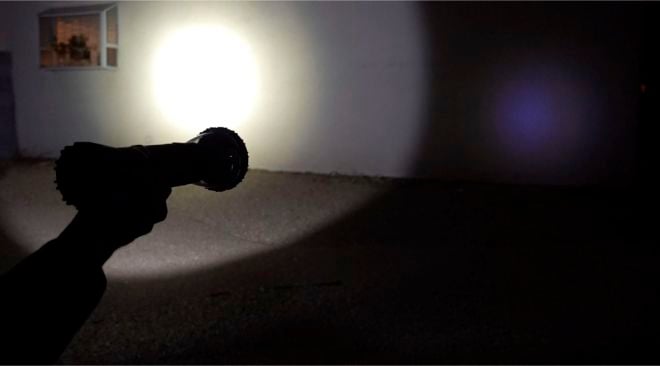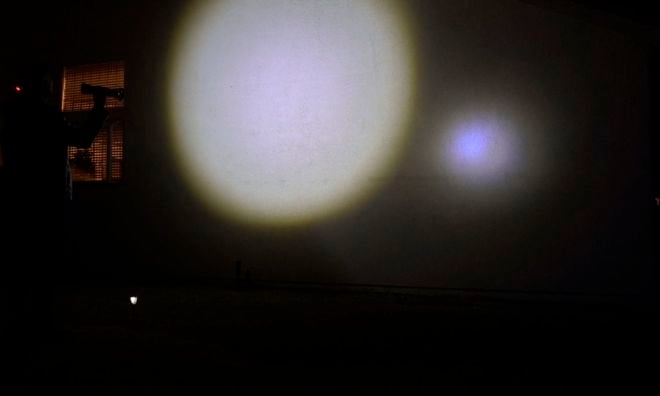 For those who like the novelty of a "water-powered" flashlight, HydraLight could be a cool gadget to have. The biggest downfall, however, is that its fuel cell will eventually become depleted and no longer work. The instructions state that it should be able to run three 100-continuous charges, and then several shorter charges before the fuel cell is depleted. In other words, this probably isn't a flashlight that will last years if it is used often.
The convenience of a water-powered flashlight is certainly compelling, as there is no need to stock up on batteries or keep rechargeable batteries topped off. Of course, if you haven't used your HydraLight for a while and the power goes out at night, you may have to stumble through the dark in order to take your light to the nearest water source.
The dimness of the light and the fact that the fuel cell has such a limited life makes this product somewhat disappointing. It feels more like a high school science fair experiment than a product that will be useful over the long term.
Alternatives
Water-powered flashlights are relatively new to the market, although the concept of using water to power devices is not new. You can find numerous DIY pages that show you how to make your own water-powered flashlight. A good tutorial and explanation on the topic can be found at Industructables.
The only water-powered flashlight I've seen to date is this 3-pack of one-time use emergency lights by Eton.
The impressive 650-lumen flashlight (featured in my YouTube video) that I picked up at Lowe's to compare to HydraLight can also be found on Amazon for about $25.
Video Review
Below is my full video review of HydraLight.
Your HydraLight Reviews
If you've used HydraLight, tell me what you think by leaving a comment below and a star rating above.
Updated January 2022.