Ice Genie is a compact ice cube maker that saves freezer space by replacing regular ice cube trays. Does it really work? Here is my Ice Genie review.
Sponsored Links
About Ice Genie
Ice Genie is a simple dual-chambered ice cube maker that can hold up to 120 cubes of ice. The official product website is geticegenie.com, which was registered in February 2018. The screenshot below shows how the product website looked in April 2018.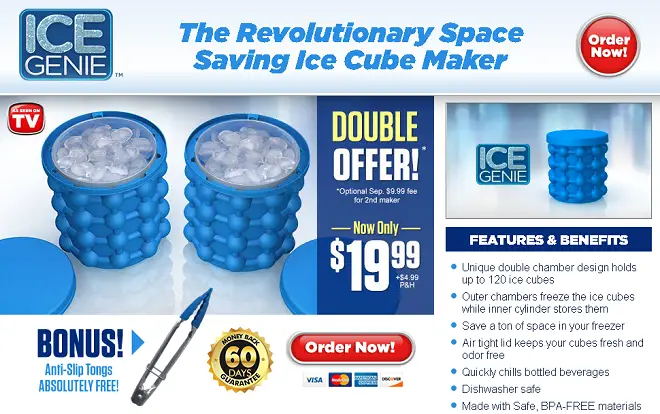 Claims & Features
Stores up to 3 batches at a time (120 ice cubes)
Ice cubes are created in the outer chamber and stored within
Conserve freezer space
Clean and scentless ice cubes (air tight lid)
Also cools bottled drinks fast
Safe to use in dishwasher
Free of BPA
Cost
Ice Genie costs $19.99 + $4.99 P&H for a total of $24.98. There is an optional double offer for a separate fee of $9.99 which would raise the total to $34.97. At the time of this writing, Ice Genie is not available in stores.
Ice Genie Review
These are my preliminary thoughts on Ice Genie. It is not available and appears to be a test-marketed item. When I obtain a unit, I will update this space with a full review.
Sponsored Links
As someone who regularly makes ice in ice cube trays, a product like Ice Genie is right up my alley. This is a product that allows you to easily make ice in a space-saving design. Ice Genie sports a cylindrical design and a removable inner sleeve that allows you to create a batch of ice, while keeping the center free from liquid. After your batch of ice is done, you can remove the sleeve and squeeze the sides of the flexible cylinder together to break the ice free. You can then store the existing ice in the center while you create another batch. Up to three batches can be stored in Ice Genie at a time, which amounts to about 120 ice cubes. An included lid helps keep ice free of odors as it is stored in the freezer. The cubes created by Ice Genie are smaller than most standard ice cubes. Another use for Ice Genie is to chill bottles by keeping an unbroken outer layer of ice in place while the inner sleeve is inserted.
Although it appears to be a relatively foolproof design, how well the insert prevents water from spilling into the center chamber will probably be the factor that makes or breaks this product. That is something that remains to be seen, however, as this item isn't available for at least a few more weeks and I won't be able to test it out until then. Another claim I will be interested to test is whether it can actually replace up to ten traditional ice cube trays. I believe this claim is made because Ice Genie can hold a total of 120 ice cubes, which is about how many cubes 10 ice cube trays will make. The size of the ice cubes, however, do not seem as large, so that claim could be accurate in terms of the number of ice cubes, but probably not in volume of ice created.
As of this writing, Ice Genie is listed on Amazon as a #1 New Release, although it won't be available until the end of April 2018.
Alternatives
There is nothing really like Ice Genie on the market, but there are other interesting ways to make ice. On the low end of the spectrum, you can pick up these easy-release ice cube trays with covers for about $13. If, however, you want ice at a completely different level, this countertop ice maker is highly rated and can pump out about a pound of ice per hour.
Your Ice Genie Reviews
Have you used Ice Genie or something like it? Leave a comment below and a star rating above to let us know your thoughts.