ImagiPen is a 3D pen for kids that allows you to create three-dimensional objects. Read our ImagiPen review plus additional product information.
Sponsored Links
About ImagiPen
ImagiPen is a 3D drawing pen for kids which goes from gel to solid plastic in seconds. The official product website is buyimagipen.com, which was registered in January 2016. The screen capture below shows how the official website looked in June 2016.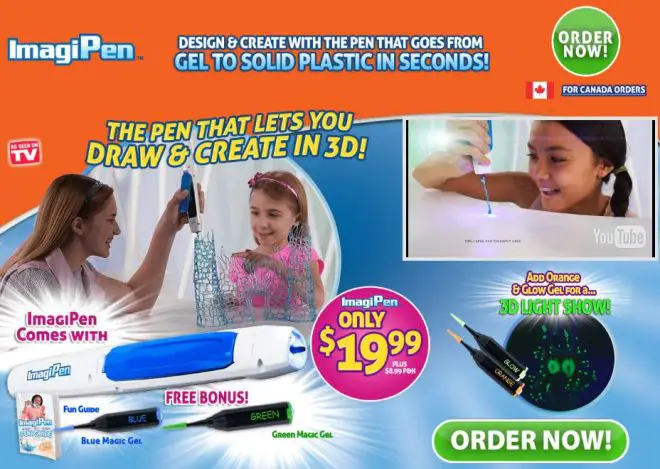 Claims and Features
Create 3D toys
Goes from gel to hard plastic in seconds
No heat required
Comes in Blue and Green. Orange and Glow colors are optional.
Cost
ImagiPen costs $19.99 + $8.99 P&H for a total cost of $28.98. You can also add Bonus Glow & Orange Gels to each order for another $8.99. Adding the optional colors increases your total to $37.97.
It takes up to 30 days for delivery. As of this writing ImagiPen cannot be found in stores.
Sponsored Links
ImagiPen Review
ImagiPen is, simply put, a "pen" for kids that allow them to make 3D creations. It works by means of a gel, which does not require heat. The gel is dispensed by the user similar to using a pen or pencil. After the gel has been dispensed, it hardens into a plastic-like material in seconds to minutes. A light at the tip of the pen helps the gel to dry quickly.
Upon our first evaluation of ImagiPen, we noticed that the website looked unusually familiar – because we had evaluated a similar product (with a nearly identical website) back in late 2015. That product, called 3D Magic Maker, made the same claims and had the same website design (even down to the colors and layout).
Thus, it would appear that ImagiPen is either a new version of 3D Maker or a re-branding of it. Nevertheless, it is safe to assume that these products are closely related. ImagiPen offers a new design, however. 3D Magic requires you to "bake" your creation in an oven-like device, while ImagiPen has built-in lights which dries on the fly.
Fortunately, ImagiPen costs less than its predecessor, although you don't get as many colors.  It also does not appear to be in stores as of this writing.
We've found that it works pretty well, although your final creations are typically going to be too fragile for play, and best suited for display. Keep in mind that the examples shown in the commercial below or on the website may be difficult for a younger kid to achieve. It can provide a fun experience, provided expectations for the final product are not too high.
If you're going to invest $30-$40 in a 3D pen for kids, you may want to consider other options before making your final decision. The Manve 3D Pen, for example, is an Amazon best seller and costs about $50.
Overall, however, ImagiPen is a fun craft-type toy that isn't particularly messy and doesn't require heat. The $9 shipping seems steep, and this item will be a better deal when it's available in stores without shipping costs. You may also want to keep in mind that the gel doesn't go very far, and you'll be looking for refills rather quickly.
Although not perfect, we feel that ImagiPen is an improvement over the 3D Magic 3D Maker.
Television Commercial
Your ImagiPen Reviews
Have you used ImagiPen? Let us know what you think by leaving a comment below and a star rating above.