Incredi-Brella is a reverse-open umbrella that traps water inside so it doesn't fall on you. Does it work? Read our Incredi-Brella review.
Sponsored Links
About Incredi-Brella
Incredi-Brella is an inverted umbrella which traps water when you close it, so the water doesn't fall on the floor. The product website is incredibrella.com, which was registered in September 2016. The screen shot below shows how the product website appeared in December 2016.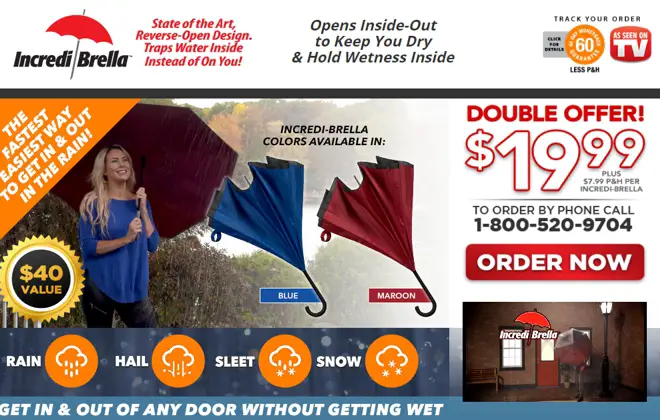 Claims & Features
Reverse-open umbrella
Holds water inside until it is poured out
Ergonomic handle
Can withstand high winds
Ideal for rain, hail, sleet, and snow
Won't bend or break
Available in blue or maroon
Cost
Incredi-Brella costs $19.99 + $7.99 P&H. You can add a second unit of the same color for another $7.99 P&H. That brings your total to $27.98 for one or $35.97 for two.
As of this writing, Incredi-Brella isn't available in stores.
Sponsored Links
Incredi-Brella Review
Incredi-Brella could best be described as an inverted, or reverse-open, umbrella. Unlike standard umbrellas which open upward and close downward, Incred-Brella operates in the opposite direction: opening downward and closing upward.
It is an unusual design at first glance, but after examining why it was designed this way, you may agree that it is superior to standard umbrellas. While in use, it looks like an ordinary umbrella, but once you come inside from rain or snow, you'll see where Incredi-Brella is an improvement over regular umbrellas. When you walk inside from the rain or snow and close a regular umbrella, rain drips off onto your floor. With inverted umbrellas, the rain collects inside, and can be disposed of more easily.
Another advantage to inverted umbrellas is that you can easily insert it through a barely-open car door in order to open it as you exit your vehicle while staying dry.
One possible "con" is that if you open or close the umbrella while in the rain, the underside can get wet, which could then drip water on you. If you are going in and out of the rain repeatedly, the wet underside could defeat the purpose of having this type of umbrella.
Overall, we find few flaws with Incredi-Brella. It is a relatively new product, so you may want to exercise patience in the shipping process. It is also not available in stores, while some of its competitors have since hit local shelves. Can Incredi-Brella stand above the fray in the increasingly crowded inverted umbrella market? Only time will tell.
Alternatives
You've probably seen commercials for another umbrella like this called Better Brella, which we have reviewed here.
Incredi-Brella and Better Brella could both be described as knockoffs of a popular Kickstarter product called KAZbrella, which sports a very similar design. That product was delayed hitting the market, which allowed a number of knockoffs to hit the market first. There are numerous inverted umbrellas at Amazon, many of which are highly rated.
Television Commercial
Your Incredi-Brella Reviews
If you've used Incredi-Brella, tell us what you thought by leaving a comment below and a star rating above.