Inhealer is a natural salt inhaler which supposedly improves breathing. Read our Inhealer review.
Sponsored Links
About Inhealer
As of December 2016, the Inhealer website states that the product is no longer available.
Inhealer is a Himalayan Salt Inhaler that uses salt crystals to relieve respiratory problems. The official product website is inhealer.com, which was registered in August 2016. Below is a screen capture showing the official website as it appeared in August 2016.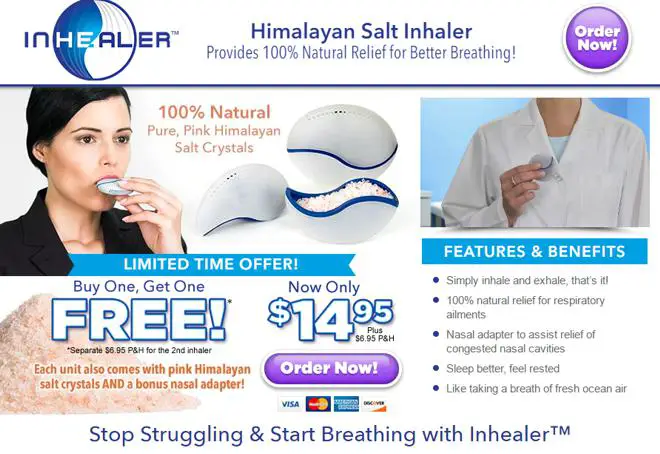 Claims & Features
Easy to use – just inhale and exhale
100% natural relief
Improves sleep quality
Helps with asthma, sinus, and allergy triggers
Nasal adapter for congestion
Compact and portable
Cost
On the official website, you can purchase Inhealer for $14.95 plus $6.95 processing and handling. When ordering, there is a buy one get one free order for an additional $6.95 processing and handling, which is mandatory.
The total cost for purchasing Inhealer is $28.85. As of this writing, it's not available in stores.
Inhealer Review
Inhealer is advertised as a natural way to address breathing problems. Containing pink Himalayan salt crystals, Inhealer allows you to inhale vapors from the salt crystals, which supposedly aids in opening up airways.
Sponsored Links
When you breathe through Inhealer, salt particles are absorbed into your airways. There is a salty taste while using it, although it probably won't bother most people. Ideally, a few inhales of Inhealer will give you a sensation of easier breathing. A nasal adapter is also included which allows you to breath Inhealer through your nose when you need to address congested sinuses.
Asthma patients may notice that the disk design of Inhealer looks similar to Advair, which is a rather expensive prescription asthma medication. Inhealer is smaller than Advair, and more convenient to carry in a purse or shirt pocket.
The primary question is whether or not Inhealer actually works as advertised. And, as you may have suspected, the answer is highly subjective.
Himalayan salts were featured on an episode of Dr. Oz several years ago and in the years since have appeared in over-the-counter inhalers such as Inhealer. While the research is not yet conclusive, there are some studies which indicate that salt therapy may be beneficial to those suffering from breathing problems. There are certainly a number of people who feel that salt therapy works for them.
No two people suffer lung problems in the exact same way, which is why there is no single solution to such ailments. You may want to try Inhealer to see if it works for you, and many people have said that salt therapy is a viable alternative to traditional medicine. If you have severe lung problems or your current medication is working for you, it may not be wise to venture into unknown territory without first consulting a doctor. You may also want to try it in addition to your current regimen, rather than completely replacing those medications.
In short, Inhealer will probably bring some relief to the majority of people who try it.  There will be those who feel that it doesn't work at all, and it may not be a perfect fit for everyone. It's probably worth a try, but you may not want to toss your existing medications just yet. Price-wise, Inhealer is about in the middle of the pack.
If you are on a low-salt regimen due to heart-related problems, you may want to consult your doctor before using a product such as Inhealer.
Alternatives
Inhealer appears to be a knockoff of, or at least inspired by, the Original Himalayan Crystal Salt Inhaler, which was one of the first such devices to arrive on the marketplace around the time of the Dr. Oz feature. That $45 product has a 3.7 star rating among over 130 user reviews.
There are a number of other Himalayan salt inhalers available online, ranging in price from about $19 – $45.
Your Inhealer Reviews
What do you think of Inhealer? Give us your opinion in the comments below and leave a star rating above.