InstaBasket Review: Reusable Shopping Bag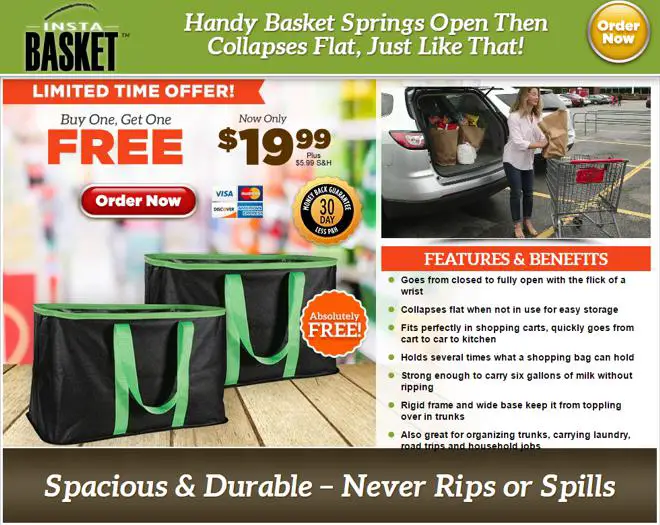 InstaBasket is a durable, reusable shopping basket that is ideal for groceries or laundry. Read our InstaBasket review.
Sponsored Links
About InstaBasket
InstaBasket is a large and durable bag which can be used for shopping, laundry, and more. The official product website is buyinstabasket.com, which was registered in August 2016. Below is a screen capture showing the official website as it appeared in August 2016.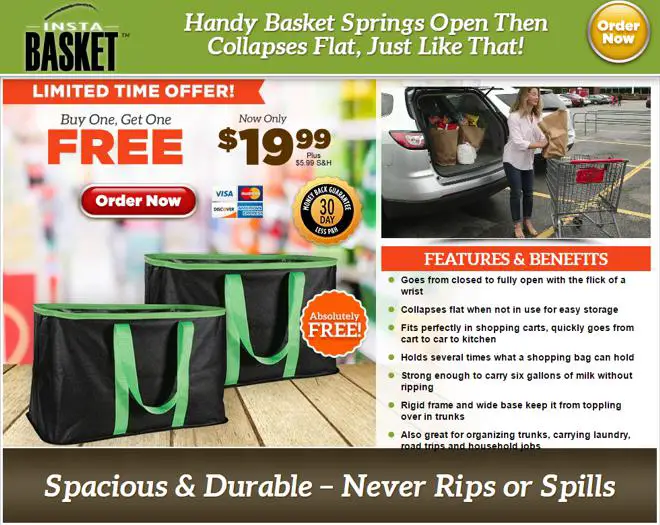 Claims & Features
Opens with "the flick of a wrist"
Collapses flat when not in use
Fits well in shopping carts
Goes from cart to car to kitchen
Can hold six gallons of milk without ripping
Rigid frame prevents toppling
Can be used for organization
Cost
You can purchase InstaBasket for $19.99 + $5.99 shipping. This includes a bonus free basket with no additional shipping for a total cost of $25.98.
As of this writing, InstaBasket is not available in stores.
Sponsored Links
InstaBasket Review
InstaBasket is a reusable multipurpose bag, ideal for laundry, groceries, and organization. While it appears to be similar to inexpensive grocery bags which most stores sell for a couple of dollars, it does offer a significant design improvement over the competition.
Unlike other reusable store bags, InstaBasket boasts a spring frame which quickly snaps open. This helps prevent the bag from toppling over, and keeps it open no matter how much is inside. It's a nice touch, and one that would hard to do without once you've actually used it. Another benefit from the frame is that it retains a rectangular shape, so easy storage is facilitated by a rigid, yet collapsed design.
Overall, we think that the spring frame makes InstaBasket stand out from standard reusable grocery bags. It stays in place and stays open in a way that regular bags do not.
Keep in mind that, while InstaBasket can certainly hold a heavy load, if you plan to transport a large number of groceries in one bag, it could be problematic hauling a 50 pound load such as shown in their demonstration of six gallons of milk.
Our product researchers believe that InstaBasket will do a fine job of performing as expected. The advertising doesn't adequately highlight just how much of an improvement the spring frame is over regular bags. Those who do order it will likely be pleased with their purchase, but it remains to be seen if InstaBasket's design improvement can make it a compelling option in a rather crowded field.
We're hoping this one shows up in stores, as we think it could be a hot seller without shipping costs and delays.
Alternatives
If the advertising for InstaBasket seems familiar, you may recall and other As Seen on TV product which began airing in late 2014 called Grab Bag. That item is still around and can be found locally in the As Seen on TV aisle.
There are numerous reusable shopping bags on the market in a variety of sizes, shapes, and prices. It may pay to peruse options to see what works best for you.
Your InstaBasket Reviews
What do you think of InstaBasket? Give us your opinion in the comments below and leave a star rating above.