InstaGone Pro is advertised as a stain remover that can dissolve virtually any stain in seconds. Read our InstaGone Pro review plus key product information.
Sponsored Links
Pitchman Pete Chicarelli claims that after 4 million "satisfied customers" of his original InstaGone formula, he developed InstaGone Pro, "An even more powerful formula that instantly dissolves virtually any stain." The commercial claims that you can simply "spray and walk away."
The question, then, is "Does InstaGone Pro work?" We put it to the test and our results are as follows.
We found that InstaGone Pro worked surprisingly well on certain stains, such as popcorn ceiling water stains. We tested it in several homes, and the results were generally positive. Some stains completely disappeared, while others were lightened. We had less success in cleaning outdoor furniture, to which InstaGone had little effect.
It should be pointed out that InstaGone has a strong bleach/chlorine smell. You should wear a mask and eye protection when using it, especially when spraying upward on ceiling stains. It is also a good idea to use in a well-ventilated area, and to cover any furniture or carpet not being cleaned.
InstaGone Pro comes in packets which are to be mixed to create the liquid spray.
Although InstaGone Pro does not appear to be available in stores, you can find the original InstaGone in stores such as Sears for about $20.
The InstaGone Pro "About" paragraph:
"The instant cleaning secret to Instagone is the penetrating action that works into the tiniest crevasses that disintegrates stains on contact. Clean any surface, hands free, in seconds! Turn surfaces like stucco from water stained to wonderful, instantly, and just a spray brings weathered outdoor decking and grimy patio furniture back to life."
Official Website
instagonepro.com
Registered September 24, 2013
InstaGone Contact Info
877-370-1425
9 AM to 5 PM Monday to Friday EST
Sponsored Links
Claims/Features
Disintegrates stains on contact
No scrubbing
Hands free cleaning
Works instantly on any surface
Brings outdoor, weathered surfaces back to life!
Cost
$10 plus $6.99 P&H = $16.99
Double the InstaGONE Pro offer for an additional $6.99 P&H, for a grand total of $23.98.
You can also get 1 – 15 oz can of InstaGONE Pro Quick Shot, for another $7.99 P&H, bringing your total up to $31.97

Tax will apply to NJ & SC. A shipping surcharge of $14.99 will apply to all Canada orders.
Screenshot
Below is a screen capture of the official website, taken in January 2014: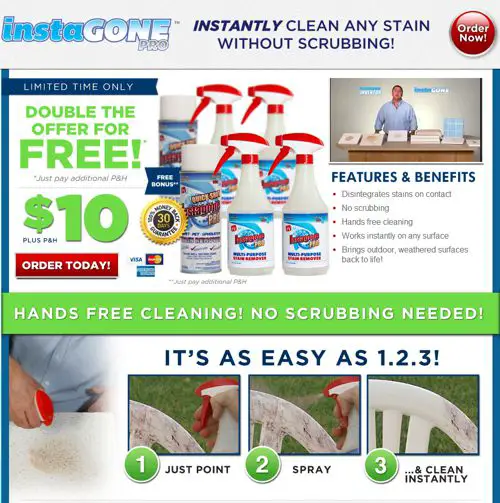 Television Commercial
Below is a television commercial for InstaGone Pro.
InstaGone Pro Reviews
Have you tried InstaGone Pro? Please give us your review in the comments below and give it a star rating above.