Instant Moon is a LED nightlight that displays a projection of the moon in various lunar phases. Does it really work? Here is my Instant Moon review.
Sponsored Links
About Instant Moon
Instant Moon is a moon-shaped LED night light with a textured surface. A remote control can be used to project different colors and phases of the moon. The official product website is buyinstantmoon.com, which was registered in October 2017. The screenshot below shows how the product website looked in December 2017.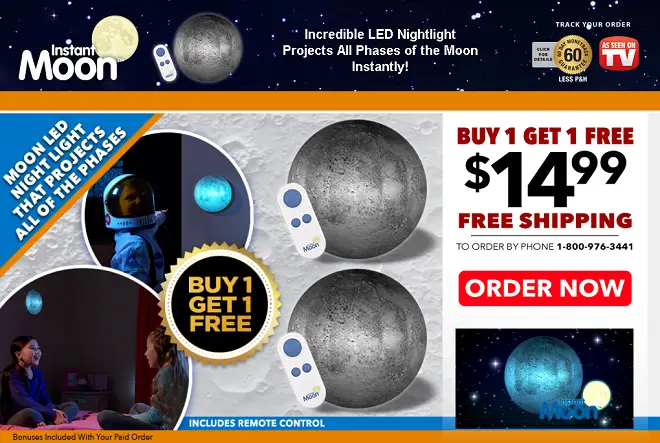 Claims & Features
Nightlight that depicts lunar phases of the moon
LED shines through a 3D textured surface
Remote control can project four different moon phases: crescent moon, half moon, three-quarter moon, and full moon
Also projects the moon in three different colors: white, orange, or blue
Automatic energy-saving sleep timer
Cost
When purchasing Instant Moon, there is a mandatory buy one get one free double offer. The cost is $14.99 for a set of two. Shipping is free. Each unit comes with a remote control.
Instant Moon Review
Instant Moon is a textured light that hangs on the wall and can be controlled via remote control. Instant Moon offers three different colors (white, orange, and blue) and several different moon phases. I had a product virtually the same as this for many years that hung on my daughter's wall, and she loved it. As a nightlight, it provided a peaceful glow that she looked forward to every night.
Sponsored Links
There isn't much to Instant Moon other than turning it on, selecting the moon color, and cycling to the desired moon phase. Once the novelty of the product wears off, I think most kids will probably use it in full-moon mode as a nightlight at bedtime. I suggest taking care of the remote because, without it, there is no way to control the device. The commercial states you can "use it over your desk to study at night" but I don't think anyone will find that it gives off enough light on its own to replace a lamp.
One minor point of contention I have is that the six sections of Instant Moon that light up individually are visible even when the device is turned off. Also, the "map" of the moon doesn't seem as accurate as other moon phase lights I've seen, discussed below.
Other than those two minor points, I think that those who purchase this will like it. The soft glow and familiar sight are perhaps more comforting than just a regular night light. In my daughter's case, she would often watch her moon night light as she fell asleep.
The price of $14.99 for two – which includes free shipping and no additional charges for the second unit – is quite reasonable. I don't know why you'd need two, unless you have multiple children in separate rooms who would like this.
Keep in mind that Instant Moon is a very new product, based on its October 2017 website registration date. That tells me this is likely being test marketed, which means the name, price, or design could change. It also means shipping could take longer than you might expect. See my short video below for more information about As Seen on TV test marketing.
Alternatives
As mentioned above, my daughter had a virtually identical product on her wall for years. You can still get that item called Moon in My Room for about $20 online. As you can see from the thousands of consumer reviews, it's a popular item that doesn't disappoint.
Your Instant Moon Reviews
Have you used Instant Moon or something like it? Leave a comment below and a star rating above to let us know your thoughts.