Ionic White is a home teeth whitening system that supposedly works in minutes. Does it work? Read my preliminary Ionic White review.
Sponsored Links
About Ionic White
Ionic White uses LED light technology to whiten teeth quickly. The official website is buyionicwhite.com, which was registered in November 2016. The screen shot below was taken of the product website in December 2016.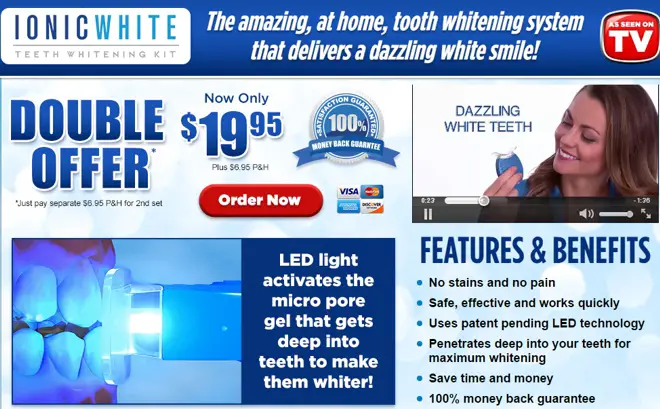 Claims & Features
No stains or pain
Works quickly
Uses LED technology
Penetrates deeply for maximum whitening
Cost
Ionic White costs $19.95 + $6.95 P&H. You can add a second system for another $6.95. That brings your total to $26.90 for one, or $33.85 for two.
Ionic White Review
Ionic White is an LED teeth whitening kit. I am attempting to secure a unit to review, so until then I will give my initial thoughts based solely on information provided on the product website, and my past experiences with similar devices.
You have no doubt seen other whitening systems advertised online, including strips, toothpastes, mouthwashes, bleaching, whitening pens, and even in-office dental visits. Ionic White is said to be an inexpensive alternative which uses a whitening pen and LED light.
Using Ionic White is simple. You'll first coat your teeth with the included whitening pen. You'll then insert the LED unit in your mouth, and should see an improvement in the color of your teeth after the first use.
Sponsored Links
I have evaluated other LED whitening kits in the past, and they typically use a gel that is activated by the LED light. Indeed, the website for Ionic White states that the LED light "activates the micro pore gel." Little else is said about this gel, however. Where does this micro pore gel originate? It doesn't say. I don't think that it comes from the whitening pen, as that is usually a completely different product. Other LED light systems also offer whitening pens, and refer to the gel and whitening pens separately. It's a bit confusing.
And while we're on the topic of whitening pens, you probably shouldn't hold high expectations for this or any other whitening pen.
One dentist
 referred to most of those being advertised online as "a highly-profitable internet scam." He also stated that, "The pens fail miserably as a delivery system because you always need high concentration and prolonged exposure to get a decent result. A paint-on can't achieve that."
Most home LED whitening kits work pretty well, and consumer reviews tend to be positive. Similar treatments at a dentist's office could cost much more, so the idea of a $27 whitening treatment is compelling. Of course, most alternatives also clearly describe the method, including where the gel comes from and how much is included (some are one-time use devices, while others can be used multiple times). I will be sure to update this page as I get more information.
Keep in mind that the kit will only last as long as the "micro pore gel" – and it isn't even clear where this gel comes from or how much you'll get. This is perhaps one reason you might want to consider the second unit, which adds another $6.95 to your final cost. You may also want to consider that the gel used in these types of products can irritate the gums for a minority of users.
Overall, I believe Ionic White will probably work about as well as similar highly-rated LED light systems on the market. The website gives scant information about the gel, which could affect the product's overall value.
Can Ionic White stand above similar products? That remains to be seen.
Alternatives
You can easily find other LED teeth whitening kits stores and online. A current "Amazon's Choice" in this category is the "Shine Whitening" kit, which costs $35 and holds a 4.3 rating among hundreds of consumers.
Your Ionic White Reviews
If you've used Ionic White, give me your thoughts by leaving a comment below and a star rating above.