Ironing Genie Review: Does it Make Ironing Easier?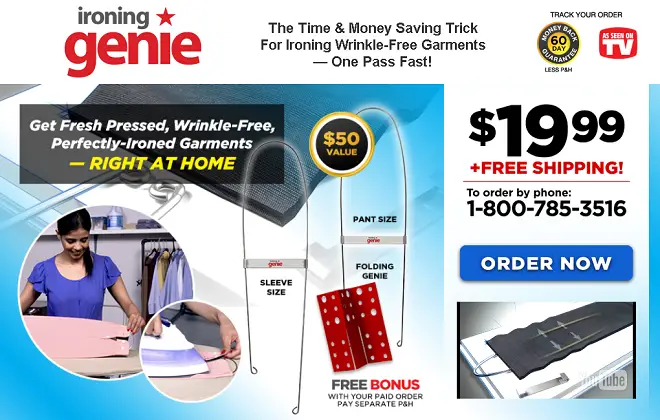 Ironing Genie is an expandable device that reduces the amount of time it takes to iron clothes. Does it work as advertised? Here is our Ironing Genie review.
Sponsored Links
About Ironing Genie
Ironing Genie is a flexible springlike rod that is inserted into clothing in order to iron both sides at once while creating ideal creases. The official website is buyirongenie.com, with a registration date of August 2017. The screen capture below was taken of the product website in August 2017.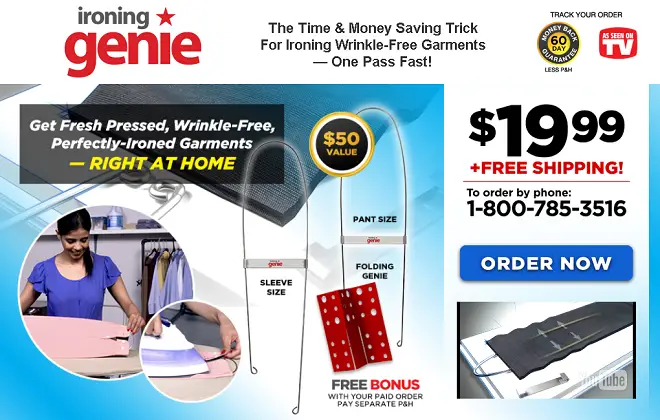 Claims & Features
Avoid dry cleaning and conserve cash
Create flawless pant creases at home
Ironing one side also does the other
Iron in half the time
60 day money back guarantee
Cost
Ironing Genie costs $19.99. This offer includes a sleeve-size unit, a pant-size unit, and a magnetic ironing board mount. There is an optional offer that adds a Folding Genie for a separate fee of $5.99 which would raise the total to $25.98. Shipping is free on all offers.
Ironing Genie Review
Ironing Genie is a simple wire device that allows you to keep clothing taut while ironing in order to speed up the process. There are actually two different Ironing Genies sold together: one for sleeves and one for pants legs. To use Ironing Genie, you squeeze the two sides of the device together and insert into the pants or sleeve. As you release, it will expand to smooth out wrinkles and keep the clothing taut. This allows you to iron more quickly and efficiently.
Sponsored Links
Because of the Ironing Genie's design, it can slip into about any size of clothing. And because clothing is kept tight, a single pass of the iron will usually be sufficient for both sides of the pants leg or sleeve. Less passes means more efficiency, and less wear on the clothing. And, because the wire aligns with the seams, you can achieve straight creases quite easily. A magnetic holder is included that attaches Ironing Genie the side of the ironing board for easy access when you need it.
The good news it that Ironing Genie is an extremely simple device that serves a very specific purpose, and does it quite well. The not-so-good news is that you're paying about $20 for the same amount of material as two wire hangers, and some consumers may not feel like this is worth $20.
Ironing Genie is a new item, likely being test marketed. As I've noted with other articles on this site, test marketed items are usually slow to ship because often the manufacturer doesn't create an inventory until after seeing results from the initial round of advertising. This means the product can be slow to ship, and may not ship at all if there is no interest (in which case, all existing orders are simply canceled).
I'll update this space as more information becomes available.
Alternatives
Despite what the advertising may imply, this is not a new concept. There was a product called Outline which came out five years go, and you can also find similar devices on Amazon.
Television Commercial
Your Ironing Genie Reviews
What are your thoughts about Ironing Genie? Drop a comment below and a star rating above to let us know what you think about it.