Jumbo View is a large day/night anti-glare visor that attaches to any car in seconds. Does it work? Read our Jumbo View review.
Sponsored Links
About Jumbo View
Jumbo View is an anti-glare visor that works for daytime or nighttime use. The official product website is getjumboview.com, which was registered in August 2016. You can see a screenshot below of the official website taken in October 2016.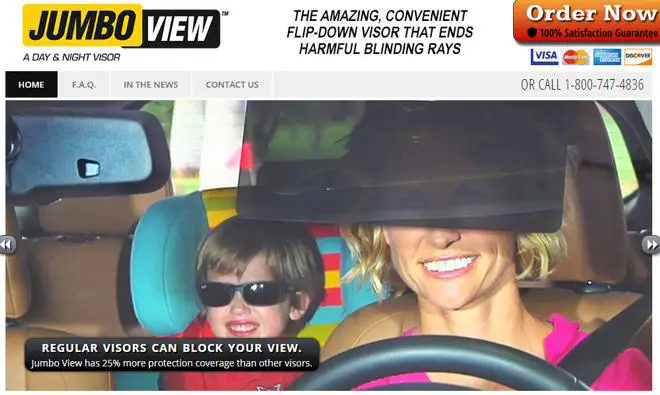 Claims & Features
Reduces glare, allowing you to see the road more clearly
Day/Night visor
25% larger than other visors
Cost
You can get one Jumbo View for $19.99 plus free shipping, or you can get two for $19.99+$9.99, also with free shipping.
As of this writing, Jumbo View is not available in stores.
Sponsored Links
Jumbo View Review
Jumbo View is an anti-glare visor for day or night that can be quickly installed in any vehicle. It sports two different tinted panels, a dark panel for daytime use and an amber tinted panel for nighttime use.
To install Jumbo View, you merely clip it onto your existing visor. You'll place it so that the visor you want to use is below the existing visor, while the panel you don't want to use is above. Once installed, you'll flip down the panel to reduce glare of the sun or headlines from oncoming traffic.
The good news is that these types of sun visors do a pretty good job of reducing glare. The use of different types of panels for day or night is also a nice feature.
If you already wear sunglasses while driving during the day, you probably won't gain much additional benefit from the darker panel, which may act to further darken your view. This could be good or bad, depending on how dark your sunglasses are. Further, the night visor works about the same as a pair of amber-tinted sunglasses. It will reduce glare, but it could also slightly diminish your overall vision. If you don't like wearing sunglasses, or don't always have a pair with you, Jumbo Vision may be a good item to keep in your vehicle.
As there are other products already on the market similar to Jumbo View, this item is advertised for its larger size as an advantage over the competition. Whether or not that will compel consumers to purchase this over less expensive options remains to be seen.
Overall, we think those who purchase Jumbo View will give it positive marks, provided their expectations are realistic.
Alternatives
There have been a couple of flip-down anti-glare visors advertised on television in recent years. You may recall such products as HD Vision Visor or Easy View. Both of those products work similarly to Jumbo View, and have about a 3-star rating with consumers.
A search for day/night anti-glare visors will yield a rather wide assortment of similar products.
Your Jumbo View Reviews
Have you used Jumbo View? Let us know what you think by leaving a comment below and a star rating above.