Just Right Cushion is a support device which can be transformed in a number of different configurations. Read our Just Right Cushion review.
Sponsored Links
About Just Right Cushion
Just Right Cushion is a therapeutic cushion designed to support your neck and spine. The official product website is justrightcushion.com, which was registered in . Below is a screen capture showing the official website as it appeared in August 2016.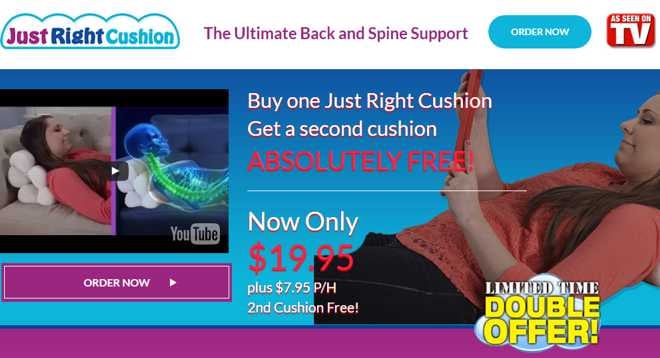 Claims & Features
Conforms to the shape of your neck and spine
For use at work, home, or car
Multiple sections for easy customization
Folds into multiple shapes
Machine washable
Good for back, leg, neck, and spine support
Cost
You can get the Just Right Cushion for $19.95 + $7.95 P&H. This includes a second free cushion. There is an option to upgrade to a Deluxe model which is 20% thicker and 20% larger. That costs $10 extra. Just Right Cushion can also be found on Amazon for about $40.
Just Right Cushion Review
Just Right Cushion is an adjustable cushion which can be configured into a variety of different shapes. The secret is in the product's 5 segments, which allow it to be folded into a size and shape that best suits the individual consumer. The cushion retains its configuration until you decided to unfold it.
Sponsored Links
Perhaps the biggest problem when purchasing a pillow or cushion is that every person has their own idea of what constitutes comfort. With Just Right Cushion, there are a number of different configurations which allow you to find just the right size and shape to suit your needs.
If you are one to lie on the couch while reading, for example, Just Right Cushion could be folded in a configuration which would provide comfort to your head while supporting your back far better than the sofa's arm rest. It is this type of versatility which gives Just Right Cushion value and function.
Although the advertising for Just Right Cushion may a bit hyped, we think the majority of consumers who purchase it will find that it does a good job of adding support when you sit or lie down. If your expectations remain realistic, Just Right Cushion could become your go-to support cushion.
Just Right Cushion appears to be a re-branding of an identical product from a couple of years ago called Just Right Pillow. We could find no discernible difference between these two items, other than in the name. That item appeared in late 2014 and disappeared in 2015. The name "pillow" was something as a misnomer, and the re-branding as a "cushion" seems appropriate.
Alternatives
Just Right Cushion sports a rather unique design, but there are a number of pillows and cushions available which offer some of the same benefits. Pancake Pillow, for example, is a adjustable pillow which allows you to add or remove inserts to get the proper comfort level. For improved sleep, many customers look to something like this lumbar support pillow which uses medical grade memory foam. For sitting, the BackGuard by SimplePosture is a highly rated item which costs under $30.
Television Commercial
Your Just Right Cushion Reviews
What do you think of Just Right Cushion? Give us your opinion in the comments below and leave a star rating above.