Kitty Cat Dance Club an automatic laser toy for cats. Read our Kitty Cat Dance Club review.
Sponsored Links
About Kitty Cat Dance Club
Kitty Cat Dance Club is a cat toy that creates a laser pattern with which cats can chase and play. The official product website is kittycatdanceclub.com, which was registered in August 2015. The screen capture below shows the official website as it appeared in July 2016.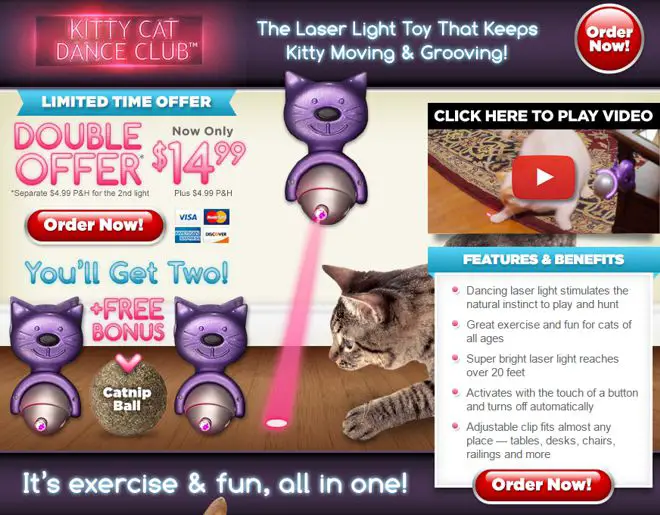 Claims & Features
Dancing laser light stimulates instinct to play and hunt
Good exercise for cats
Light reaches over 20 feet
Button activated, auto shut-off
Can be clipped to a variety of places
Cost
Kitty Cat Dance Club costs $14.99 + $4.99 P&H. There is a mandatory "double offer" which adds another $4.99 for a second unit. This brings your total to $24.97.
You can upgrade to a Deluxe version which includes three additional light shows with varying speeds and colors for $5 per light ($10 total), which would bring your cost to $34.97.
Sponsored Links
A free catnip ball is included with every order.
Kitty Cat Dance Club Review
The idea of a cat playing with a laser light is certainly not new. YouTube is filled with entire channels of such sights. With Kitty Cat Dance Club, however, there is a slightly new take on the idea.
While the traditional cat laser is a hand-held pencil-like device which the owner must wave around in order to entertain their cat, Kitty Cat Dance Club is completely automatic. You simply attach the device to a table, desk, or chair, and your cat will be entertained.
There are a few things to consider before whipping out your wallet or purse. First, the cost of $25 for the obligatory "double" offer is significantly more expensive than traditional laser lights, which can sometimes be found in dollar stores. Another issue to consider is that you don't have a great deal of control over where the laser points, so you'll want to make sure no items which can be damaged are placed in the path of the light. There are also some experts who believe that laser lights are not good toys for cats.
Kitty Cat Dance Club is a re-branding of a product we first reviewed in February 2016 called Kitty Cat Laser Light. You can see a commercial below for the product when it was marketed under that name. Oddly, the original "Kitty Cat Laser Light" website now features a completely different laser cat light. Typically when a product is re-branded, the original website is forwarded to the new one, but that is not the case here.
If your cat is the type to play with a laser light for a long period of time without getting frustrated, this could be a good fit for you.
There aren't nearly as many automatic cat laser lights on the market as hand-held versions, so Kitty Cat Dance Club fills a void which some cat owners will appreciate.
Alternatives
In addition to the vast number of hand-held lasers, which can be purchased anywhere for a few dollars, there are other automatic laser pet lights, such as the FroliCat BOLT Interactive Laser Pet Toy, which runs about $18.
Your Kitty Cat Dance Club Reviews
If you've used Kitty Cat Dance Club, tell us what you thought by leaving a comment below and a star rating above.