Kitty Roo Sweatshirt is a hoodie with a carrying pouch for a small cat or dog. Does it work? Read our Kitty Roo Sweatshirt review.
Sponsored Links
About Kitty Roo Sweatshirt
Kitty Roo Sweatshirt is a cat-themed hoodie that contains a detachable carrying pouch for small pets. The hood is cat eared, the sleeves extend into finger gloves (like cat paws), and there are long drawstrings with fluffy pom poms on the end that can be used as a cat toy. The product website is buykittyroo.com, which was first registered in July 2015. The screen shot below shows how the product website looked in February 2017.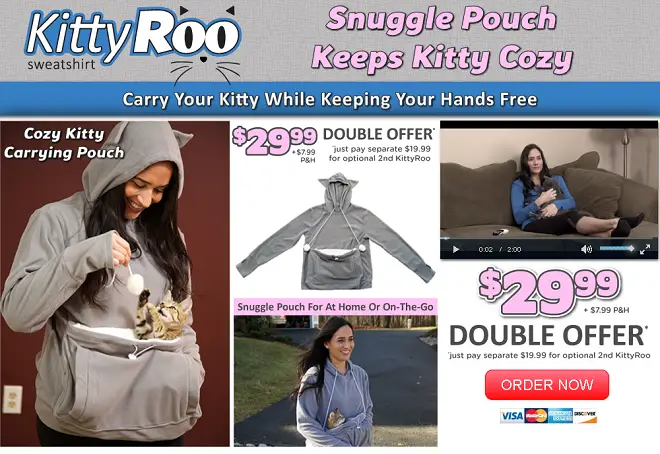 Claims & Features
Comfy sweatshirt with detachable pouch for carrying small cats or dogs
Built-in open finger gloves
Includes hoodie with cat ears
Drawstrings with pom poms on the end that your cat can play with
Machine washable
Cost
The Kitty Roo Sweatshirt comes in four different sizes (M, L, XL, and XXL) and costs $29.99 + $7.99 P&H for a total of $37.98. There is an optional double offer to purchase an additional Kitty Roo Sweatshirt for $19.99 with no added P&H. Choosing the double offer would bring the total to $57.97.
Sponsored Links
As of this writing, Kitty Roo Sweatshirts are not sold in stores.
Kitty Roo Sweatshirt Review
Sometimes an As Seen on TV product hits the scene and seems to gain as much scorn as it does accolades. It would appear that Kitty Roo Sweatshirt may qualify as such an item. This gray sweatshirt has a hoodie with cat ears and a "snuggle pouch" in which you can hold a small pet. The pom-pom drawstrings can also double as a cat toy.
As ridiculous as such a description may sound to the uninitiated, I can tell you that there are some pet owners out there that will absolutely love such an item.
Those who see the advertising and feel compelled to buy it probably won't be disappointed, as it should look and perform exactly as shown. The biggest concern will be whether or not your pet actually likes being carried around in such a pouch. Perhaps the easiest way to find out would be to carry your pet in something that functions similarly, like a blanket or open bag. If your pet seems to enjoy being carried around in this manner, then Kitty Roo Sweatshirt will probably be a good fit for you and your pet.
Ironically, although I have a small dog and a cat, my cat is much less likely to enjoy being held in a pouch like this than my Chihuahua.
Kitty Roo Sweatshirt is marketed to females of all ages, but it seems best suited to girls and teens. I don't think that non-cat owners will really "get" Kitty Roo Sweatshirt, but "crazy cat owners" will love this nonetheless.
Alternatives
There is a virtually identical item on Amazon called the Mewgaroo Pet Holder, although I'm not sure which one of these two products came first. The Mewgaroo variant has comments dating back to October 2015, which is only a few months after the Kitty Roo website was registered. The good news for those interested in Kitty Roo is that the Mewgaroo holds a rather solid rating among those who have purchased it.
Your Kitty Roo Sweatshirt Reviews
What do you think of Kitty Roo Sweatshirt? Tell us what you think by leaving a comment below and a star rating above.