Kool Grill is a lightweight and portable BBQ grill that runs on a handful of charcoal. Does it work? Read our Kool Grill review.
Sponsored Links
About Kool Grill
Kool Grill is a compact stainless steel BBQ grill that has an airflow control and an even heat distribution system that runs on charcoal. The product website is buykoolgrill.com, which was first registered in October 2016. The screen shot below shows how the product website looked in April 2017.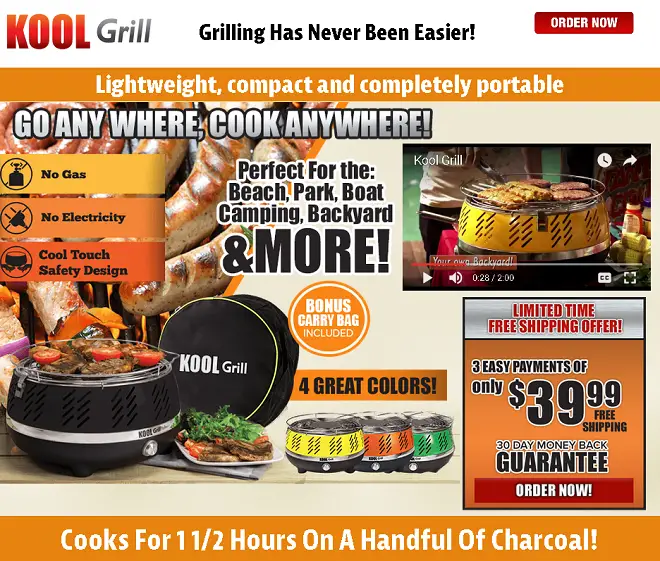 Claims & Features
Portable & compact outdoor grill
Does not use gas or electricity
Cool touch safety design
Cooks for 1.5 hours on a handful of charcoal
Dishwasher safe
Cost
Kool Grill costs $119.97 and shipping is free. There is also the option to pay 3 payments of $39.99. The grill comes with a carrying case, and is available in four different colors: black, green, orange, or yellow.
Sponsored Links
Kool Grill Review
Portable grills are a mainstay among campers and tailgaters alike. And, while there are numerous portable charcoal and gas grills available, the makers of Kool Grill believe they have a product that stands out above the fray.
The typical portable charcoal grill has a lower basket to hold coals and a wire grill that resides above. And, while that is still the manner in which Kool Grill is configured, it is just a bit more complex.
Coals used by Kool Grill are housed in a chamber which prevents them from being spilled, even if the grill is knocked over. This chamber has a metal lid that is used to heat the grill. In theory, Kool Grill should use less charcoal than the standard portable grill.
Although the coals disperse heat along the stainless steel grill, the accumulation of the charcoal in the center could mean that there are hot spots, which may mean you'll need to become accustomed to the best areas to place food while cooking.
Another nice feature of Kool Grill is how it handles fat and grease that drips while you grill. There is a reservoir that collects fat, so that it can be easily drained when you are finished cooking. This seems to be a more elegant solution that having it simply drip onto the coals and the bottom of the grill, as you'll find with standard portable grills.
It should come as no surprise that all of these nice features come with a cost. Kool Grill costs about $120, which is on the high end of the portable grill range. With its compelling set of features, it could be worth the cost to those who grill often.
Alternatives
The idea of a portable grill is hardly new. A relatively inexpensive option is the $50 Weber Go-Anywhere Charcoal Grill, which holds very high consumer ratings.
Kool Grill is quite similar to the Gourmia Portable Charcoal Electric BBQ Grill, which costs about $100 and boasts a 4.6 star rating online. You may want to compare the two before making your final decision.
Television Commercial
Your Kool Grill Reviews
What do you think of Kool Grill? Tell us what you think by leaving a comment below and a star rating above.