Laser PawPost is a cat scratching post with a laser light on the top. Does it really work? Here is my Laser PawPost review.
Sponsored Links
About Laser PawPost
Laser PawPost combines a scratching post with an adjustable 360-degree laser light. The official product website is laserpawpost.com, which was registered in August 2017. The screenshot below shows how the product website looked in October 2017.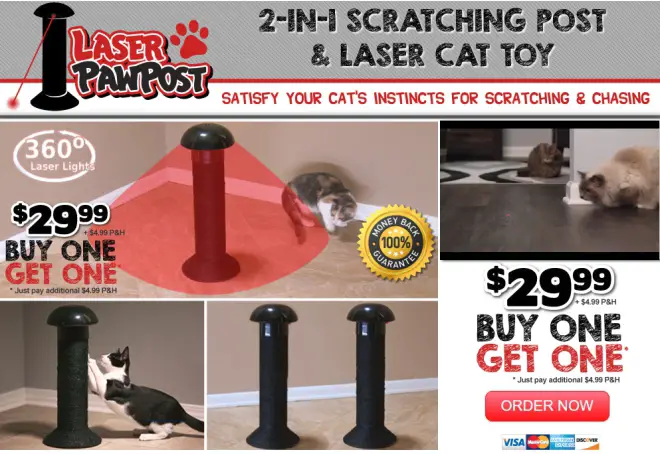 Claims & Features
Combines a scratching post and laser light
Appeases natural feline instincts
360 degree laser moves around post
Laser has four speed settings: slow, medium, fast, or random
Adjust laser to project closer or farther from base
Post is wrapped in strong sisal yarn
Durable nonslip base
Battery powered (requires 3 AA batteries)
Cost
There is a mandatory double offer when ordering Laser PawPost. The cost is $29.99 + $4.99 P&H + $4.99 double offer for a total of $39.97. At the time of this writing, Laser PawPost is not available in stores.
Laser PawPost Review
As Seen on TV cat toys have been a mainstay of late night advertising for years, and I have reviewed and tested my fair share of these products. With Laser PawPost we have two popular cat items combined into one: laser toy and scratching post. To use Laser PawPost, you simply choose one of the four options and let it do its work. A laser light will then move in a 360 motion, which will prompt pets to chase it.
Sponsored Links
There are four options that you can select on the top of the unit: Fast, medium, slow, and random. It requires 3 AA batteries, which are not included. The body of the unit is a scratching post wrapped with sisal yarn, which tends to last longer than regular scratching posts.
Laser PawPost offers enough features to make this worthy of consideration. As a scratching post, you'll probably find that it holds up far longer than the typical post. The laser itself is adjustable, so you can give your cats a large or a small diameter, depending on the space you have available. I've seen nearly identical units where the laser isn't adjustable, and that could be a deal-breaker. Thus, I think Laser PawPost is a good product that most consumers will like.
There is one factor, however, which I cannot predict: the personality of the cat using it. I've tested so many cat products over the years with a number of cats, and every cat reacts differently to any given toy, to the point that it is impossible to find a toy that will appeal to all cats. I've seen cats ignore expensive toys in favor of a shoestring, and even when felines do give a new toy attention initially, some lose interest quickly. If your cat tends to play with lasers and doesn't get easily bored, this could be a perfect fit for you.
Because you can get cheap scratching posts anywhere, that feature is more of a bonus than a primary function. That means you're mostly paying for an automatic laser, and there are so many laser cat toys that it's hard to really pick among the lot. You may want to take a look at something like LePet Interactive Laser Cat Toy for $22, or this PetSafe Rotating Laser Cat Toy, both of which function much like Laser PawPost, although neither doubles as a scratching post.
One final point to make is that Laser PawPost is a very new item. As noted above, the website for the toy was only registered in August 2017, which tells me this is likely being test marketed. It has been my experience that test marketed items are notoriously slow to ship because they are often immediately put in "back order" status until they reach full production – if ever. With that in mind, you may want to exercise patience in the shipping process.
Television Commercial
Your Laser PawPost Reviews
Have you used Laser PawPost or something like it? Leave a comment below and a star rating above to let us know your thoughts.