Lash Magnetics are reusable eyelash extensions that are held in place by micromagnets. Do they really work? Here is my Lash Magnetics review.
Sponsored Links
About Lash Magnetics
Lash Magnetics are magnetized eyelashes that click on in seconds without the use of glue. The official product website is lashmagnetics.com, which was registered in August 2017. The screenshot below shows how the product website looked in December 2017.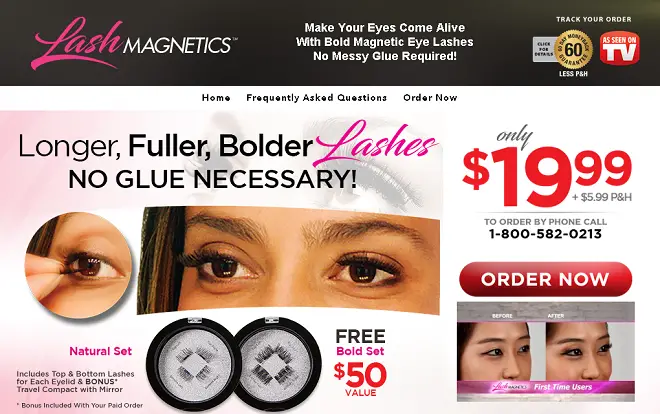 Claims & Features
Does not require glue or adhesives
Application takes moments
Will not irritate eyes or harm lashes
Reusable
Compatible with all eye shapes
Secure and comfortable
Save time and money (no makeup mess)
Cost
Lash Magnetics costs $19.99 + $5.99 P&H for a total of $25.98. This is a mandatory double offer that includes a natural set and a bold set of Lash Magnetics. Each order also includes a bonus travel compact and mirror.
Lash Magnetics Review
If you've seen commercials for magnetic eyelashes recently,  you have probably seen one of several products that have been marketed recently: 3 Second Lash, Lashnetics, and Lash Magnetics – among others. These are a new breed of eyelashes that are held together by magnets, rather than using glue.
Sponsored Links
Lash Magnetics consists of small magnets that hold upper and lower lashes together. They are applied by placing the upper lash on top of your eyelash, then maneuvering the bottom lash so that it connects magnetically to the upper. Once in place, they should remain there throughout the day. To remove Lash Magnetics, you lightly squeeze both the upper and lower lashes between two fingers and gently pull them off. They can be reused over and over.
Magnetic lashes were first popularized back in 2016, but initial reviews were mixed because they weren't as easy to apply as the advertising implied. The most difficult step is probably placing the top lash while attempting to grab the lower lash – keeping in mind that you can't really move your eyes during the process. Properly aligning the two lashes can also take some practice. Magnetic lashes have a different feel than standard eyelashes, and not all consumers will find it comfortable. Some popular YouTubers have suggested that placing the lashes with a pair of plastic tweezers may be easier than using your fingers. Metal tweezers won't work, as they will stick to the magnets. Once in place, no one will notice that you are wearing a different type of eyelash.
The bottom line – not only for Lash Magnetics, but magnetic lashes in general – is that they do work, but they aren't for everyone. Dexterity and technique are required to apply them, and the sensation of wearing them is different than standard lashes.
The website for Lash Magnetics was registered in August 2017, which tells me this could be a test marketed item. It has been my experience that test marketed items are notoriously slow to ship, which I discuss in the short video below.
Alternatives
There is no shortage of magnetic eyelashes on Amazon. This $17 eight-pack (4 pairs) is listed as the current #1 Best Seller on Amazon with a solid 4-star rating among over 700 reviews.
Television Commercial
Below is the official commercial for Lash Magnetics.
Your Lash Magnetics Reviews
Have you used Lash Magnetics or something like it? Leave a comment below and a star rating above to let us know your thoughts.